More youths are turning to the #AcnePositivity community on Instagram in an attempt to embrace their acne rather than erase it. Aqilah Salim finds out more.
With these youths rejecting unrealistic beauty standards of having flawless skin, the skin positivity movement is thriving. Photos courtesy of Hannah Binte Shafiq Abdullah, Jane Seow and Nur Maisarah Binte Mohammad Wizan.
BY
AQILAH SALIM
Perspectives Editor of HYPE Issue #52
Published on
Jan 23, 2021
It did not bother Jane Seow, 20, a student, that she has had acne since the age of 11. At least not until she realised people were staring at other parts of her face rather than her eyes whenever they spoke to her.
Like most youths who have low self-esteem, Jane started to hate the skin that she was living with. She avoided posting photos of herself on her Instagram account –until recently.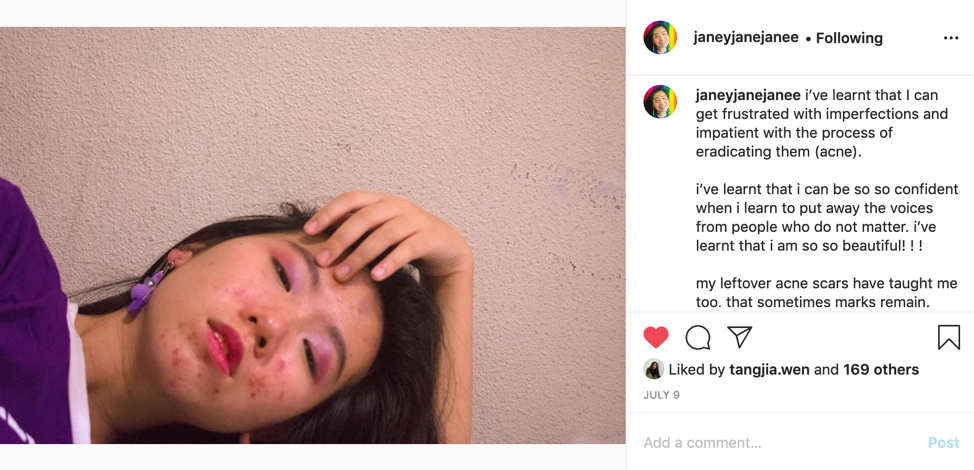 Jane's first post featuring her face as she reflects on what it means to feel worthy and confident in her journey of embracing acne. Photo courtesy of Jane Seow.
"I'm going to go all out [with] putting my face out there," she says. Though she wasn't pleased with how the photo turned out, she pushed through because she "wants to be honest" with herself.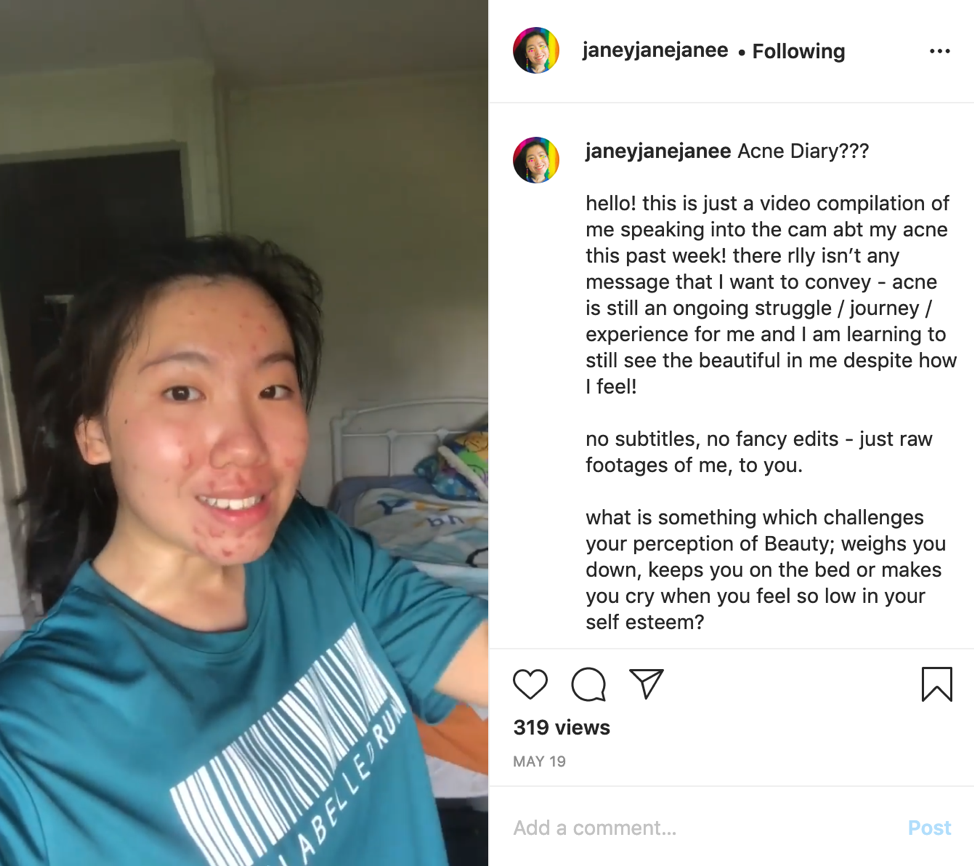 Featuring a compilation of video reflections, Jane posted her raw and emotional thoughts through Instagram's IGTV function. Photo courtesy of Jane Seow.
Acne has reared its ugly head since the wearing of masks was made mandatory because of the Covid-19 pandemic. In a recent HYPE survey, 68 per cent of 73 respondents said they developed 'maskne', aka mask acne. In the same survey, 82 per cent of respondents said they have experienced an acne breakout at least once in their lives. Despite the prominence of acne, most youths would avoid posting photos of their blemished skin online.
It's not about neglecting your condition… it's more about acceptance.
Putting one's insecurity on the net for everyone to see is not something youths would think of doing. However, Jane is motivated by the number of #AcnePositivity accounts she follows on Instagram. This community consists of individuals posting bare-faced photos of themselves to drive others to be more open about their skin woes.
"It really lifts up my spirits because I feel like I'm not alone," says Jane.
Hannah Binte Shafiq Abdullah, 19, a student, recalls the awe and admiration she felt when she saw how authentic people from the #AcnePositivity community were in their battle against acne.
Translating this feeling into action, she started her own acne positivity account on Instagram, @acnebymyside.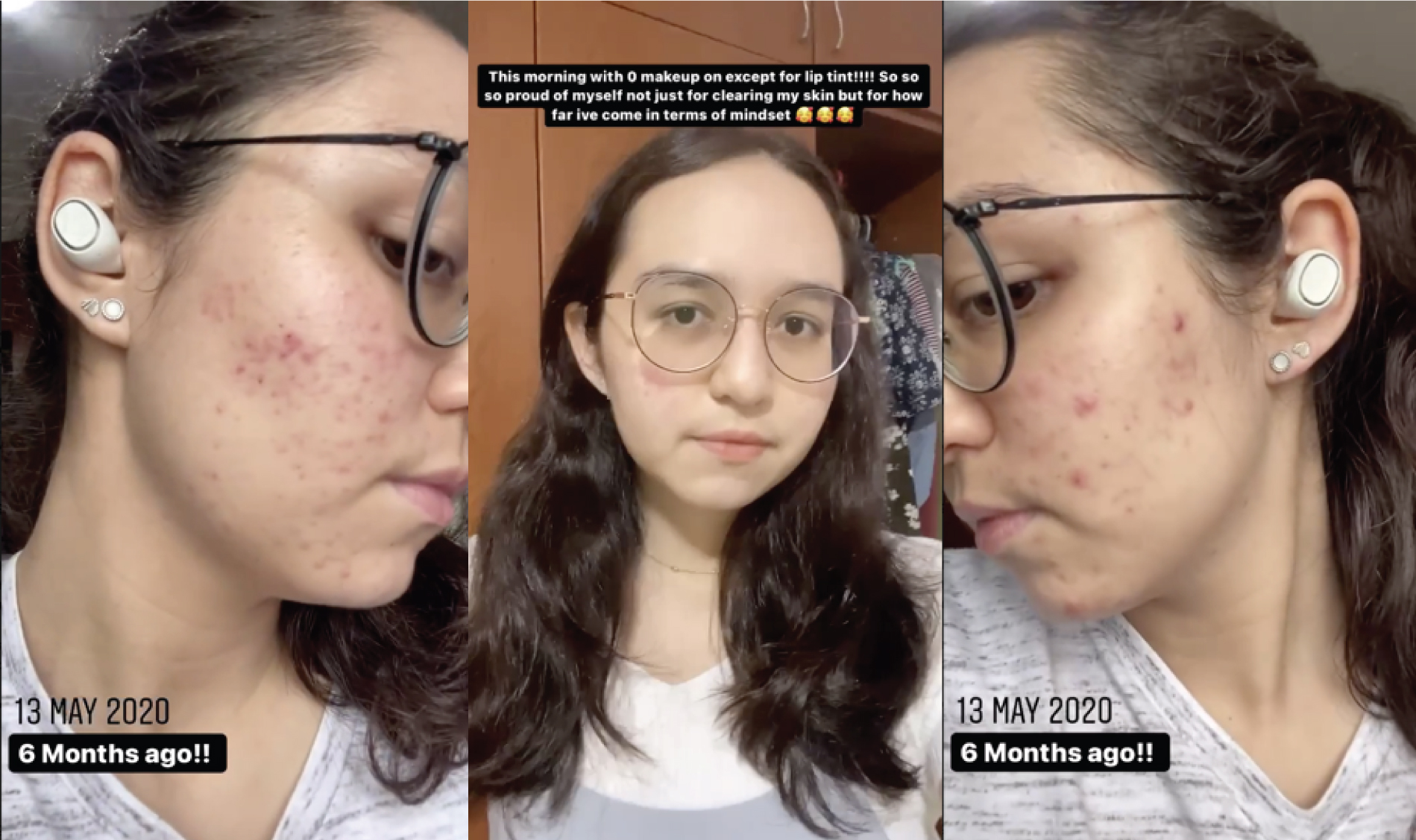 Hannah has made significant progress not only in her skin condition, but her mindset as well. Photo courtesy of Hannah Binte Shafiq Abdullah.
To her, learning to embrace acne is "remembering that your skin condition doesn't make you less of a person or less worthy of things like love or self-confidence".
"It's not about neglecting your condition… it's more about acceptance," says Hannah.
Experiencing acne has taught Hannah that beauty goes beyond how one looks on the outside. Instead, it has a lot to do with one's beliefs and personality. Hence, she aspires to inspire others through this account to gain confidence and self-love in spite of their pimples.
To feel beautiful and confident is to not let your skin inhibit you.
Meanwhile, Nur Maisarah Binte Mohammad Wizan, 23, a student, would not leave her house if the acne breakouts were bad. Having lived with acne since she was in secondary school, she says: "If I had to go out, I would put on makeup thick enough to cover my acne but that had ultimately made the breakouts worse."
Since then, Maisarah has taken pains to find out more about acne. She says: "Learning about better skin habits also encouraged me to wear less make-up, which then improved my skin."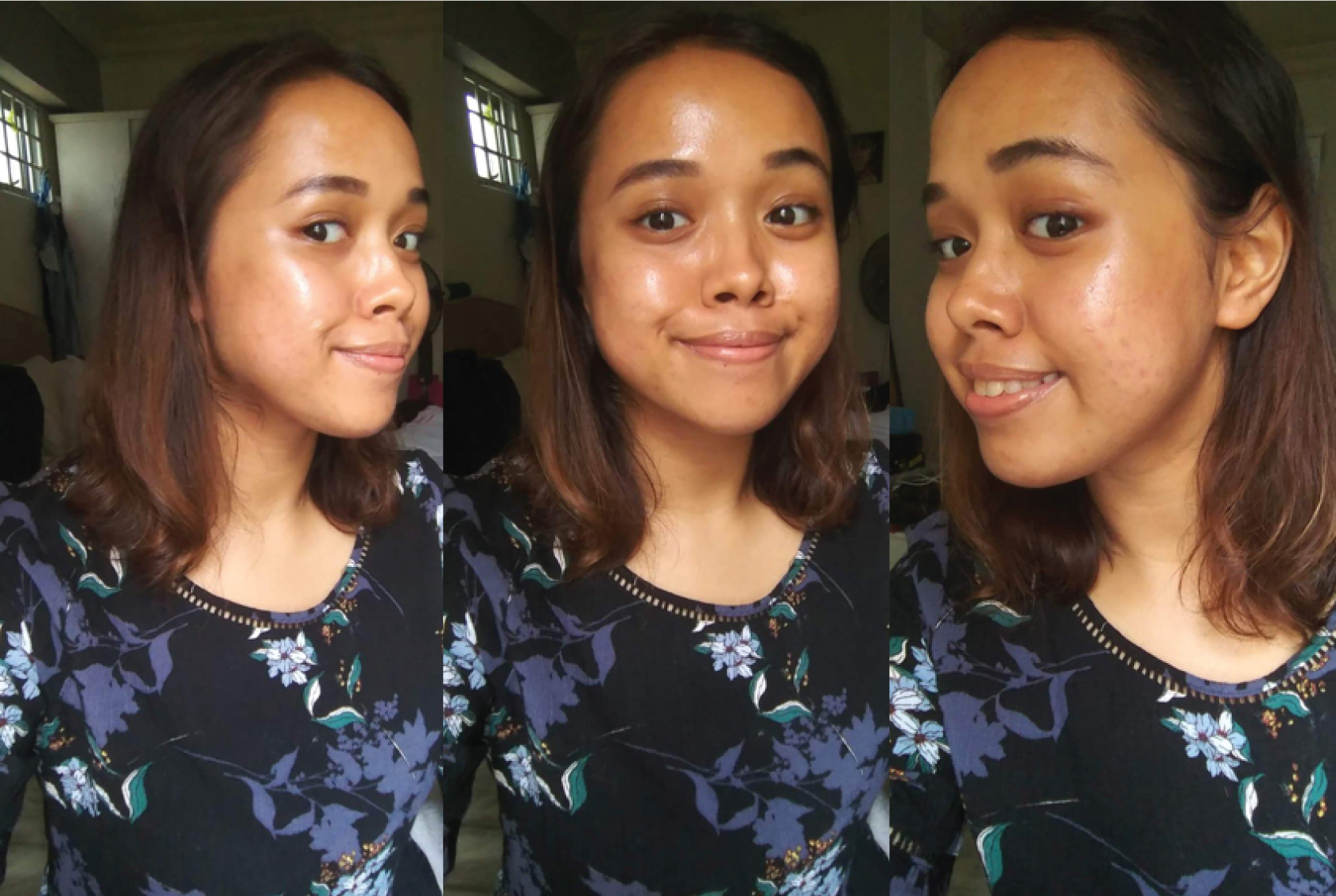 With only her eyebrows drawn, Maisarah is all smiles as she snaps a photo to document her skin care journey. Photo courtesy of Nur Maisarah Binte Mohammad Wizan.
This boosted her confidence to open up about her journey on her personal Instagram account. She also shared her favourite products and routines there, which garnered positive responses from her followers.
"In my opinion, taking care of one's skin is a lifestyle," Maisarah says. That thought inspired her to set up an Instagram account, @the.hg.search.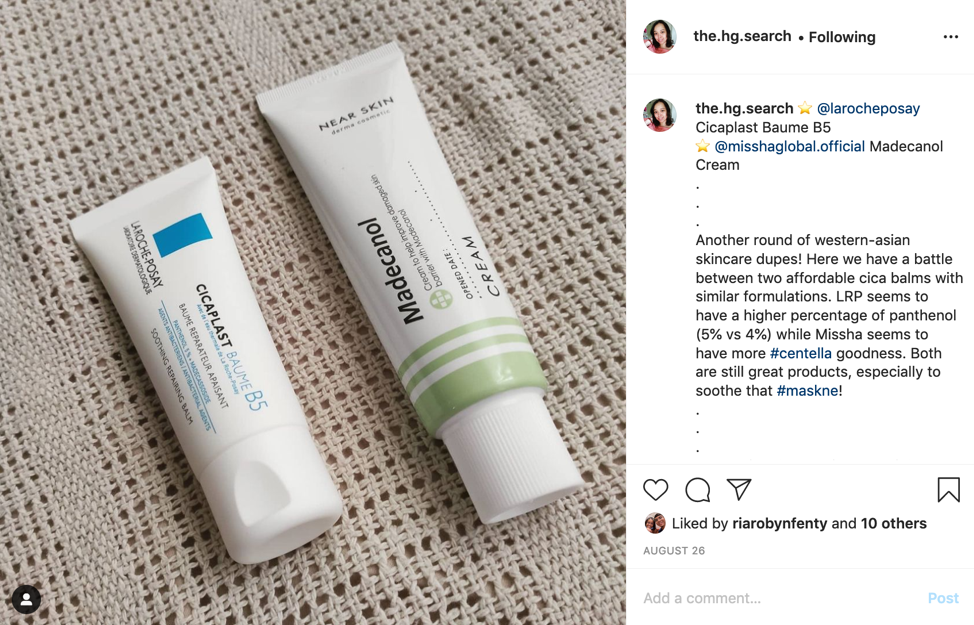 To show how much she loves the products, Maisarah only posts photos of them she's completely done with them. Photo courtesy of Nur Maisarah Binte Mohammad Wizan.
Dr Gabriel Wong, 35, a medical director at SL Aesthetic Clinic, agrees. "Applying makeup on acne-prone skin aggravates the problem as it can further clog up pores."
"Acne is not caused by dirt or not washing one's face enough. In fact, too much washing will strip the skin of sebum, triggering the oil glands to be even more overactive," Dr Wong adds.
Jane can relate to that as she was always asked this question: "Do you wash your face [often]?" Sometimes, her family would confront her with a checklist of things she could have done to minimise the appearance of acne on her face.
For those with acne-prone skin, Dr Wong suggests a gentle cleanser that does not strip the skin of its oil.
Young Living's BLOOM™ skin care collection embodies that sentiment.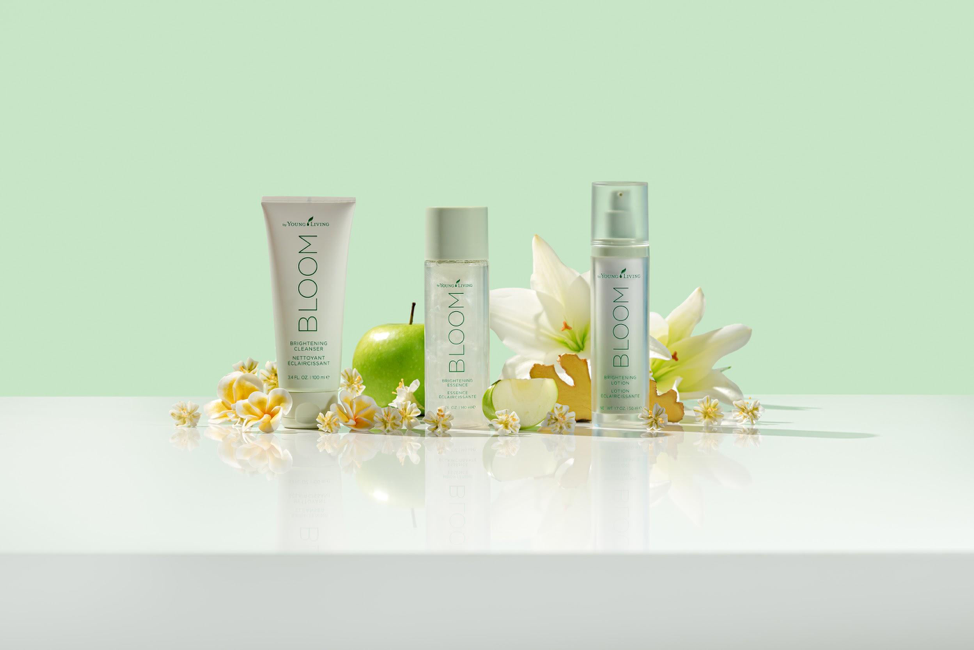 With the addition of naturally-derived ingredients, the BLOOM™ skin care collection helps you attain a healthier skin complexion. Photo courtesy of Young Living Singapore.
"[The] collection focuses on boosting moisture-holding properties that do not strip the skin, leaving it properly cleansed and moisturised," says Germaine Natasha D'Rozario, 30, assistant marketing communications manager of Young Living. 
She adds: "The formula does not contain any harsh sulfates, harsh surfactants or alcohol that could cause irritation for people with sensitive skin."
Although youths tend to take things into their own hands, Hannah says: "What I've learnt is that you really have to take the time to research good products and try them."
In my opinion, taking care of one's skin is a lifestyle.
Dr Wong advises youths to seek professional help if they are not sure about how their acne condition would develop and especially when they have large pimples that contain pus.
Ultimately, Dr Wong says, acne is not something to be embarrassed about, especially as it is a common experience among youths.
Hannah says: "Yes, it's painful and can be extremely uncomfortable. But I think we should start changing the way we talk about it."
To begin with, Jane was never self-conscious until people started pointing out her skin condition. As a result of her acne journey, Jane can now say with confidence: "To feel beautiful and confident is to not let your skin inhibit you."