Insanity Or Investment: Playing The Hobby Card Game
Benjamin Wellesley ventures into the niche community of hobby card collectors who have transformed a mere children's card game to a luxury item that possesses immense value.
Image from Premierhobby Facebook page.
BY
BENJAMIN WELLESLEY
Main Editor of HYPE Issue #51
Published on
December 25, 2020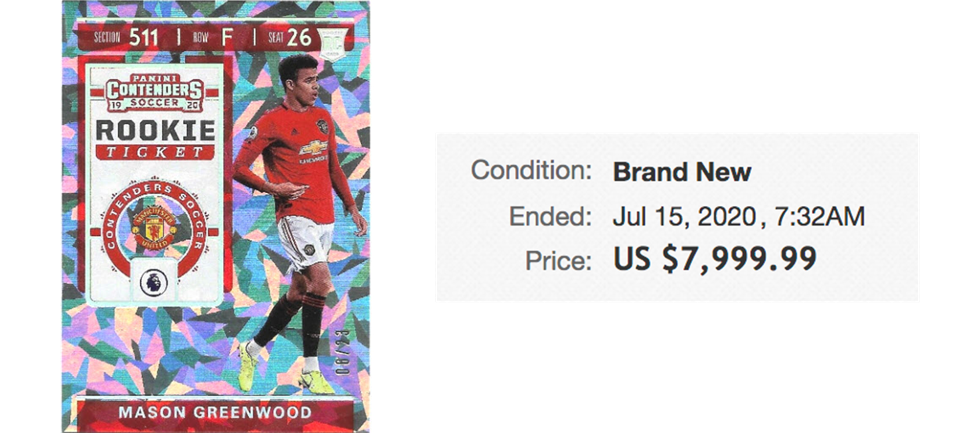 Only 23 of these Mason Greenwood rookie cards were ever produced. Image from eBay.
See the card above? It sold for around S$11,000 on eBay. And it isn't even the most expensive one out there in the market.
Enter hobby card collecting; the niche, lucrative subsection of card collecting.     Hobby configurations deviate from the retail norm by boasting a collection of luxurious, rare and highly sought after cards primed for diehard collectors. Primarily revolving around sports like baseball, basketball and most recently soccer, hobby configurations contain high-end memorabilia cards like relics, which contain a patch of a player's jersey, and autographs of high-profile superstars.
"I think a lot of people start coming into [hobby collecting] to get a sense of exclusivity, [just] imagine holding a card which contains part of [Lionel] Messi or [Cristiano] Ronaldo's jersey," said secondary school student Justin Yoon, 14.
The young collector started purchasing affordable retail cards when he was 6, starting with regular Match Attax (soccer trading cards) packets from convenience stores. He eventually forayed into hobby collecting when he purchased a few autographed cards off eBay and his passion intensified thereafter, as he continued scouring for more signatures and purchased hobby boxes online.
The monetary aspects don't faze Justin and other like-minded young collectors – exclusivity comes with a hefty cost after all. A traditional box of regular trading cards like Match Attax retails for S$100 for 50 packs, but premium hobby boxes can retail for more than quadruple that value. One of the highest-end hobby products, Panini Impeccable Soccer, sees a single box going for roughly S$1,500 on eBay.
With the ludicrously high price of these cards, the hobby card collecting scene in Singapore is clearly rather niche and not targeted at the younger generation.
"Honestly, if you ask me, I do think not more than 100 or 150 people are collecting Panini (card production company) cards. A lot of my customers are overseas or expats," said the owner of Premierhobby, Singapore's official retailer for Panini hobby cards.
The genesis of Premierhobby in 2010 saw the company commence operations as a parallel importer that purchased hobby boxes from online wholesalers and sold them at rental locker store Toy Outpost. Premierhobby obtained its hobby licence from Panini in mid–2012, and launched its flagship store at Novena Regency in September 2018.
Explaining why this niche hobby has been thriving in recent years, the spokesperson added: "With a lot of disposable income now, especially people that profited from Bitcoin investments and stuff, they need a more tangible form of investment, so that's where trading cards come in."
The whole allure of hobby card collecting lies in the pursuit of big-money signatures and cards with limited print. Diehard hobbyists are always on the lookout for signatures of prominent players, like basketball's Kobe Bryant and soccer's star duo Lionel Messi and Cristiano Ronaldo.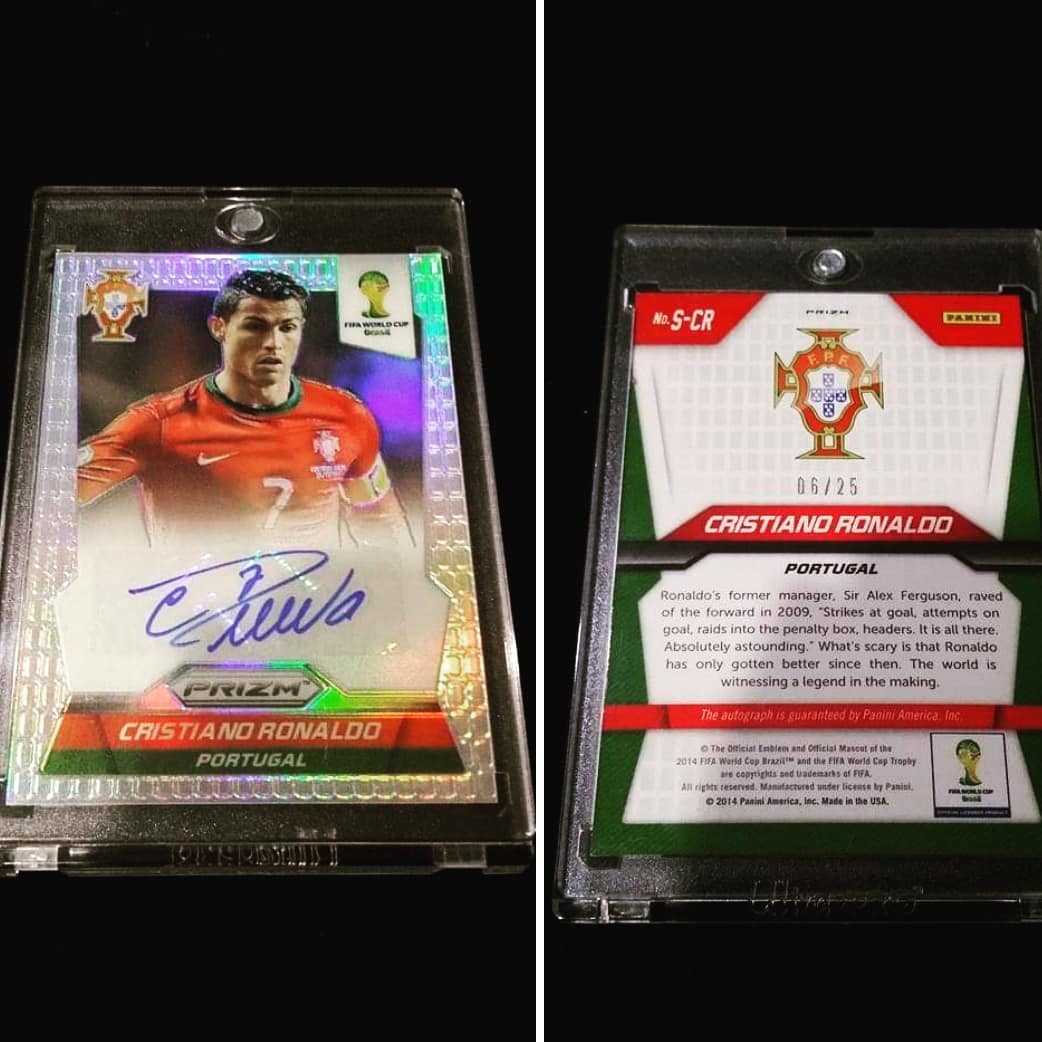 This autographed Cristiano Ronaldo silver refractor Prism from the Panini Prism World Cup 2014 collection was pulled at Premierhobby. The card is numbered to 25, which indicates that only 25 copies exist worldwide. Image from Premierhobby Facebook page.
"In 2014, one of our customers also pulled a Cristiano Ronaldo autograph [from the World Cup Prism collection], numbered to 25. We brokered a deal to sell it for S$4,200 to a Hong Kong collector. That card is extinct now as there are only 25 copies of the silver one," recalled the owner of Premierhobby.
One of Justin's fondest memories was when he pulled two extremely coveted autograph cards of global superstars Cristiano Ronaldo and  Sergio Aguero from two boxes of hobby collection Topps Finest.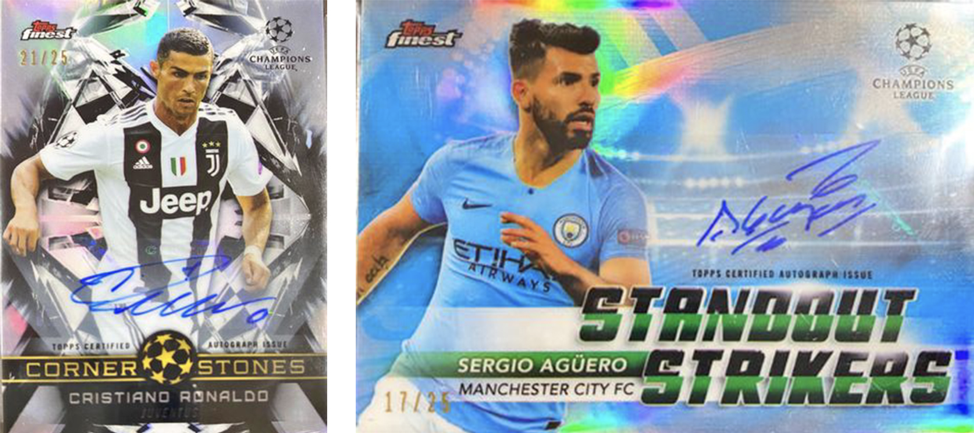 (from left) Both the Cristiano Ronaldo and Sergio Aguero autographed cards Justin pulled were numbered to 25. Although no listings are available currently, the cards' combined value is certain to be over S$2,000. Photo courtesy of Justin Yoon.
Justin reminisced: "I had purchased two boxes from a website and it was due to arrive. For the whole day I was thinking, what if I get a Messi or Ronaldo autograph, and sure enough it came true!"
While autographs of these illustrious players fetch a sizable amount, the magnum opus for hobby cards are the elusive rookie cards. These rookie cards are the cream of the crop, and are what investors vie for when looking to make a profit.
"[For hobby cards], it's all about prospecting, always about this thing called the rookie cards. Rookie cards are of stars that have potential to become the greatest players in their generations and their apparent first appearance in a particular season's [set]," explained the owner of Premierhobby.
Just like the Mason Greenwood rookie card at the top of the article, these cards carry the greatest investment value as the price has the potential to skyrocket exponentially.
"Recently, there was a card that suddenly jumped up in price by 100 times, [and that] was the Kylian Mbappe base card. Because that was his first hobby appearance [and his] so-called rookie status, from S$1-2 per piece, it suddenly jumped to S$100," said the owner of Premierhobby.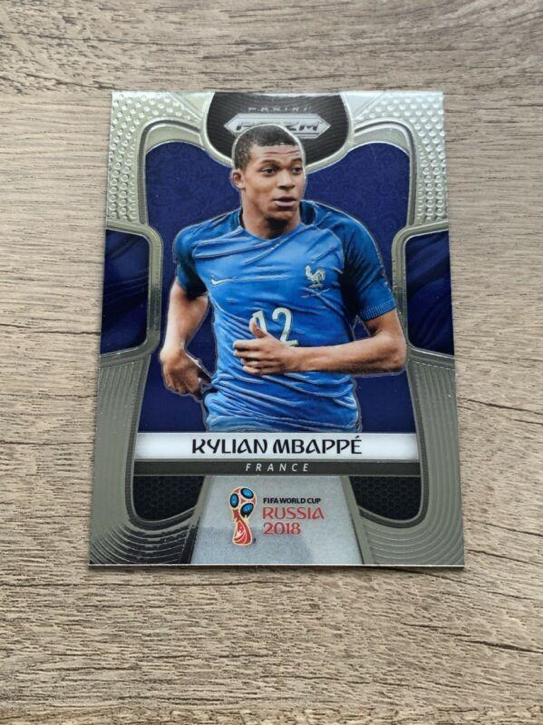 As a base card, this card was extremely easy to find and sold for around S$1 in 2018. it is worth over S$100 in today's market. Image from Breakninja.com.
Just like any luxury product, the value of hobby cards is highly dependent on the condition. Collectors have a whole arsenal of protection tools at their disposal to keep their gems pristine. 
"I store all of my cards in my collection using Ultra-Pro One Touch Magnet Cases… [as] they keep the surface and corners protected. [For] cards with autographs on them, I place a thin sleeve over the surface of the card to prevent the autograph from fading," shared avid collector Nikhail Thakker, 14.
For newer collectors, the owner of Premierhobby imparted some pertinent pieces of advice: "I do think that just like the stock market, there's a lot of hype. Never ever fit into the hype. Buy things you like and sometimes, the cheapest cards are the most beautiful cards in a way."    
"Always, always have a budget before things spiral out of control. In the end, we do not want a hobby to become an obsession and something that destroys marriages or friendships. It's always good to do research before you buy."
With young souls like Justin and Nikhail being involved in the hobby, it seems like the niche market for this may thrive and continually grow in the coming years.
Nikhail said: "Definitely, I don't have any intentions to quit the hobby anytime soon… This has been a very enjoyable hobby and I'm excited to see what else comes up that I'd add to my collection."