Candid Conversations with Desmond Kon
Armed with questions from HYPE readers, Shafiq Guee gets the always smiling, wizard of words to talk about all things wordcraft.
BY
SHAFIQ GUEE
Published on
October 4, 2020
Desmond Kon Zhicheng-Mingdé, 49, is the author of a novel, quasi-memoir, two lyric essay monographs, four hybrid works, and nine poetry collections. He has also edited more than 20 books and co-produced three audio-books. A former journalist, Desmond helms Squircle Line Press as its founding editor.
1. What should I write about for my first book? Something fictional or non-fictional?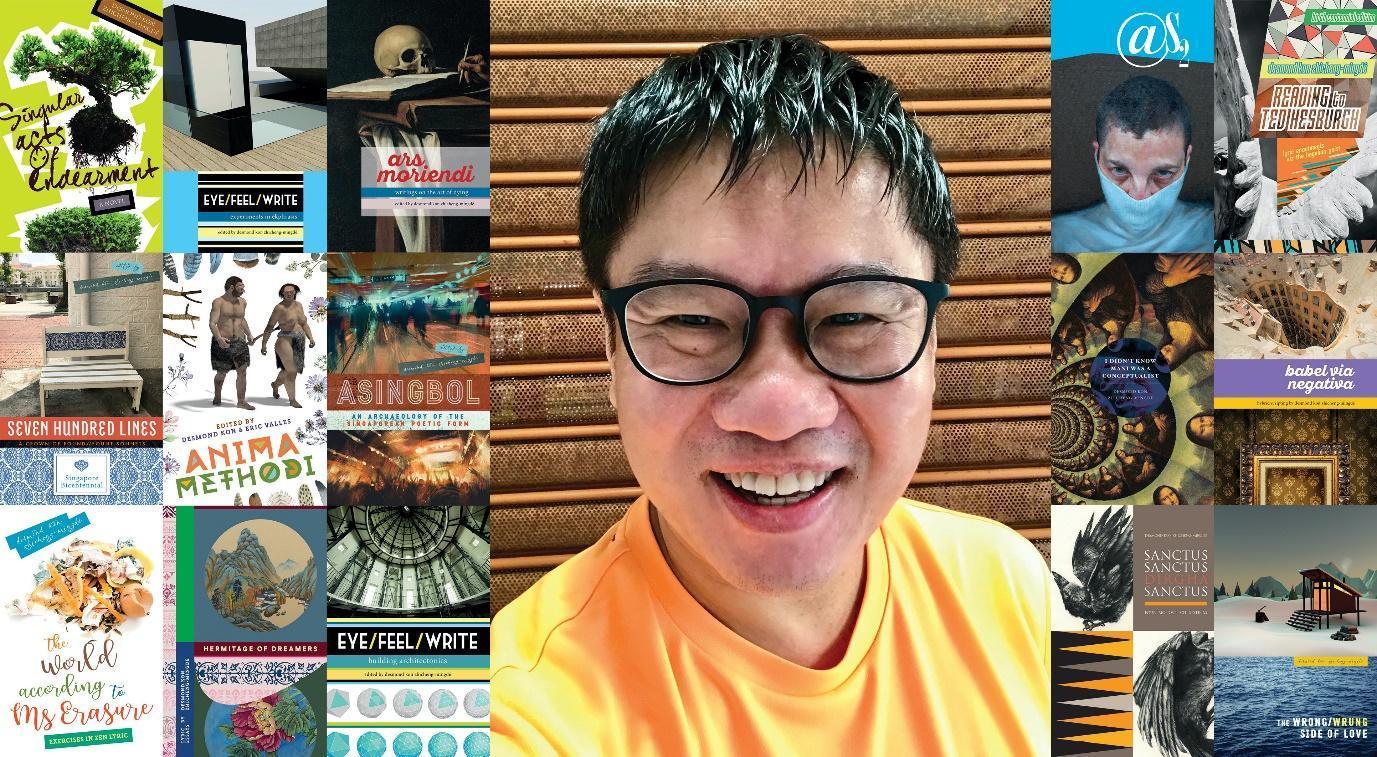 Desmond's books span poetry, fiction, creative nonfiction, memoir, and everything in between. Photo courtesy of Desmond Kon.
The genre of your choice is the one that best suits your story. For a debut book, it might be the kind of writing you're most comfortable with working in, like a series of letters or diary entries, or a dystopian novel. Often, the writers we end up becoming are a symptom or extension of the kind of reading we've come to know.
Having greater awareness of current affairs, the world around us, usually deepens our worldview, and hence the type of writing we're capable of. Studying any of these societal concerns properly in higher education typically provides us with greater critical perspective and insight. All this translates into the meat and bones of the book you might be passionate about enough to write up. A novel requires at least 50,000 words, is decent at 80,000. Ambitious manuscripts stretch up to 100,000 words. So, it's no small endeavour to author a book.
2. Much like how news articles have a format that journalists adhere to, is there a similar framework that writers stick to when writing a book?
Each genre demands its own broad rules of engagement. The best way to educate oneself is to read widely in a particular genre, and get a sense of how authors out there are playing with the form. For example, fiction typically calls for great attention to character, plot, dialogue, back story, drama, setting, exposition, among many other aspects of good storytelling.
With poetry, there's so much aesthetic consideration, like how the poem opens and closes, its shape, its structural complexity, whether it adopts a traditional form, how it develops itself, imagery, metaphor, allegory, syntax, diction, meter, rhythm, euphony, a whole bag of tropic effects.
Desmond on Commaful sharing about first-person narration.
3. I have always been fascinated by the covers of books. How are they concocted?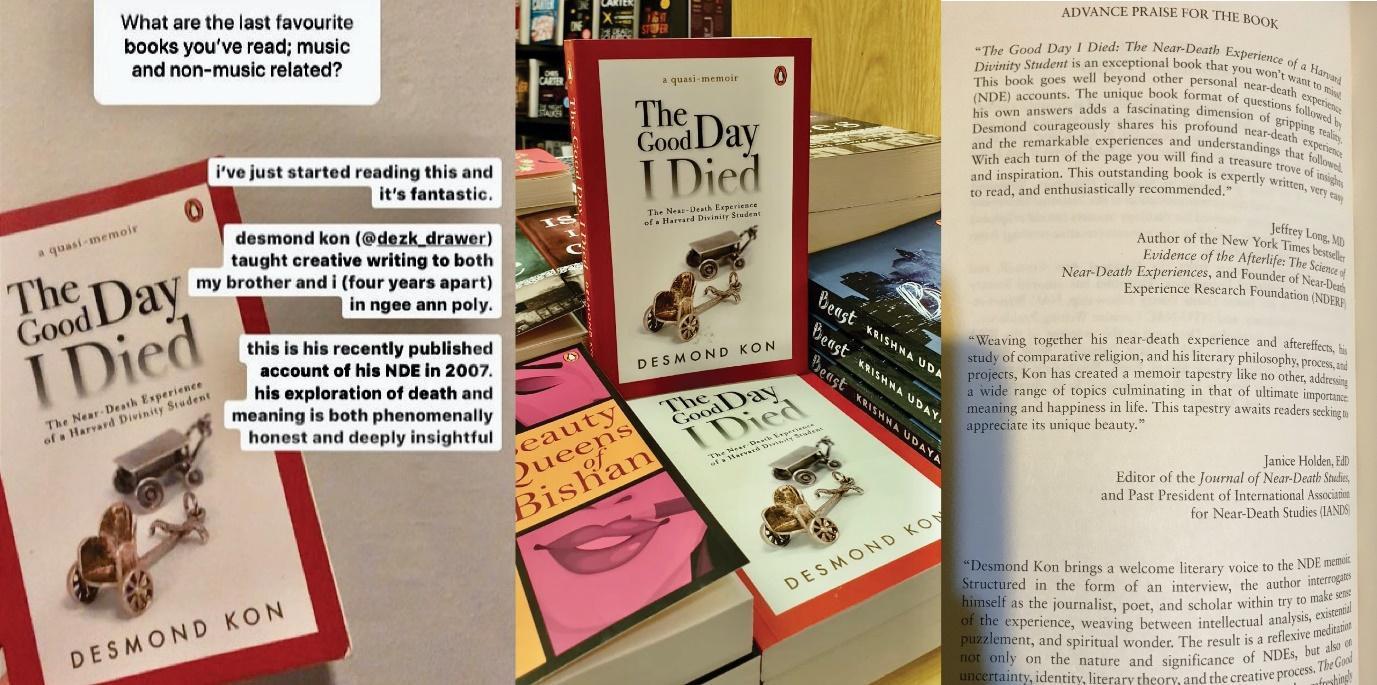 Displayed and reviewed: Desmond's quasi-memoir The Good Day I Died. Photo courtesy of Desmond Kon.
Practically, a book cover should hold its own, next to a dozen other books, lined up side by side. If you walk into a bookstore, and your book is stark and visible — better yet, it steals attention from every other book on the shelf — you've got a winner. This, as with all things, varies with different genres. 
Textbooks are pretty straightforward, sometimes formal and staid. Thrillers tend to adopt a certain look, with an arresting typeface. Given its humbler and niche readership, a poetry collection is often rewarding to work on. Your title can be elegant and understated, not showy like wall signage. The cover image can be conceptual and abstract, even obscure the way poetry is so happy to paddle in the metaphorical.
4. What are some SingLit works you'd recommend?
Too much goodness to list specific titles. It'd be like a Christmas catalogue. 
Presently, there are unbelievably talented writers who have such interesting voices. They're active in the scene, contributing in their own ways. They will, no doubt, have their sole-authored books out in due course, and I'm sure bag accolades for them as well. I'd bet money on Anurak Saelaow, Arin Alycia Fong, Audrey Tan, Iain Lim Jun Rui, Jack Xi, Jerome Lim, Jocelyn Suarez, Joses Ho, Low Kian Seh, Margaret Louise Devadason, Max Pasakorn, Min Lim, Patricia Karunungan, Samuel Caleb Wee, Valen Lim, and Wahid Al Mamun. 
So that's a long list for readers to check out. Many more stellar writers out there —you'd be spoiled for choice.
5. Don't you need to be a really well-acclaimed writer to get your work published? Is it feasible for a no-portfolio writer to be published?
No, and yes. Y'know, all writers started out first unpublished. 
All writers had to find a home for their first story or poem, had to read their first review, experienced their first launch, to face a crowd of strangers and read to them. And, all of us remember what it's like to hold that first book in our hands, fresh off the press, as an actual realised artefact. There are many firsts for an author, all those moments incredibly precious.
6. What are some of the occupational hazards that come with being an experienced writer and poet?
Reading the world around you, as if it were a half-open book, heavy and messy with all manner of meaning coming out of its ears. It can be intense and frustrating, trying to make sense of everything, as if everything needed an exegesis. As another German philosopher, Walter Benjamin, put it: "All human knowledge takes the form of interpretation."
Writing is not just a job; it's a lifelong vocation. Writing that first book is hard enough. Sustaining the momentum is really tough. Deciding what's next, oh man. For me, it's like conquering another summit. Each project tasks me to do something different. I like to experiment with genres, to blend them, and see what surprises come up. Language is like a huge instrument and puzzle for me, something I use to make more puzzles.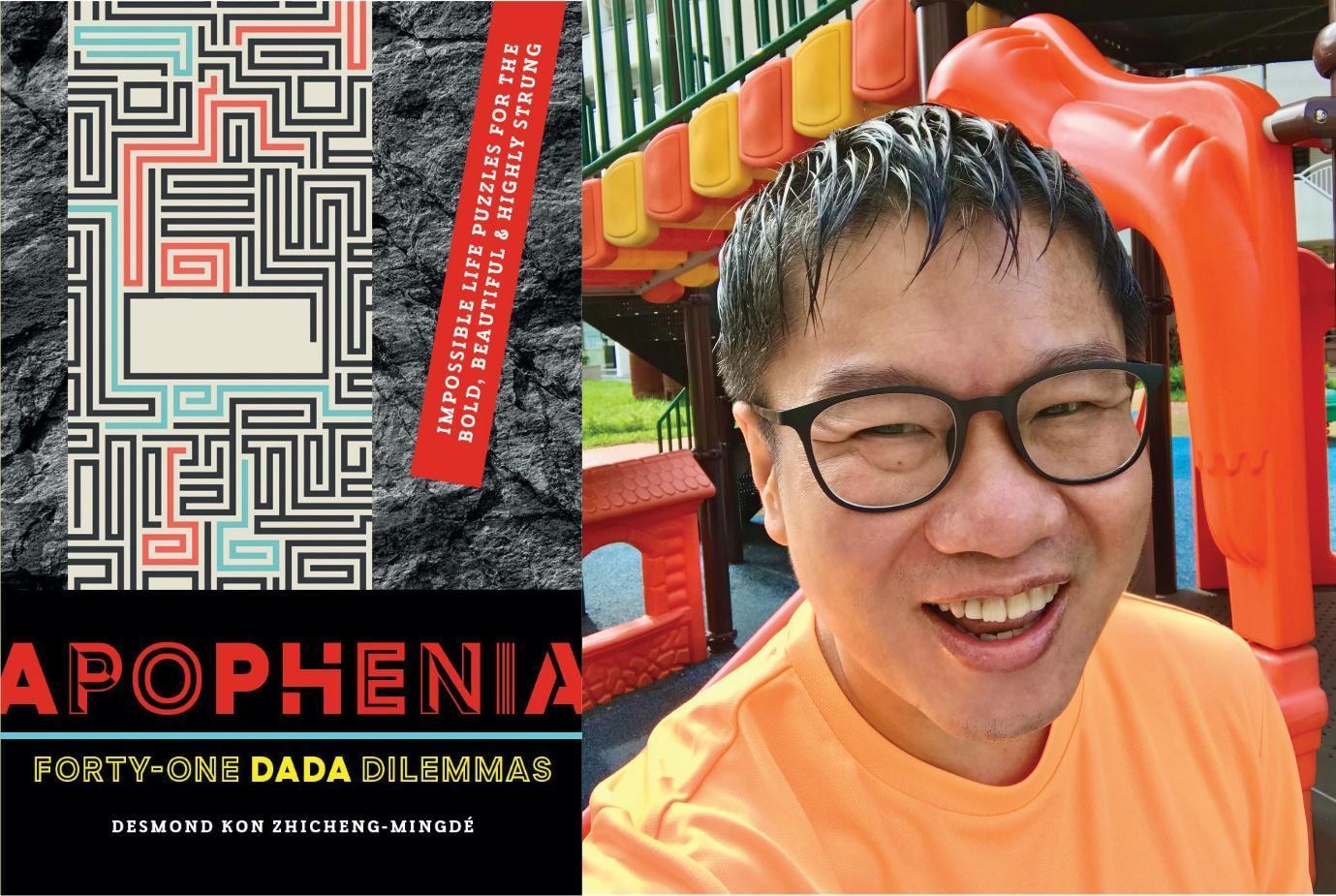 Desmond approaches language as an impossible puzzle, like his book, Apophenia. Photo courtesy of Desmond Kon.
7. Do you think it's viable to write for a living? I'm not sure about the economic viability of it, especially for a writer starting out.
If we're talking about poetry and fiction, the responsible answer, for me, would be to say: Don't quit your day job. Again, most writers I know juggle any number of professions. They teach, they write and edit, they perform, they do readings and panel discussions, they run workshops, they adjudicate on competitions, they organise events, they collaborate on various art and commercial projects, they may land a grant or scholarship or fellowship or residency. Lots of possibilities that, together, can make for a happy bundle.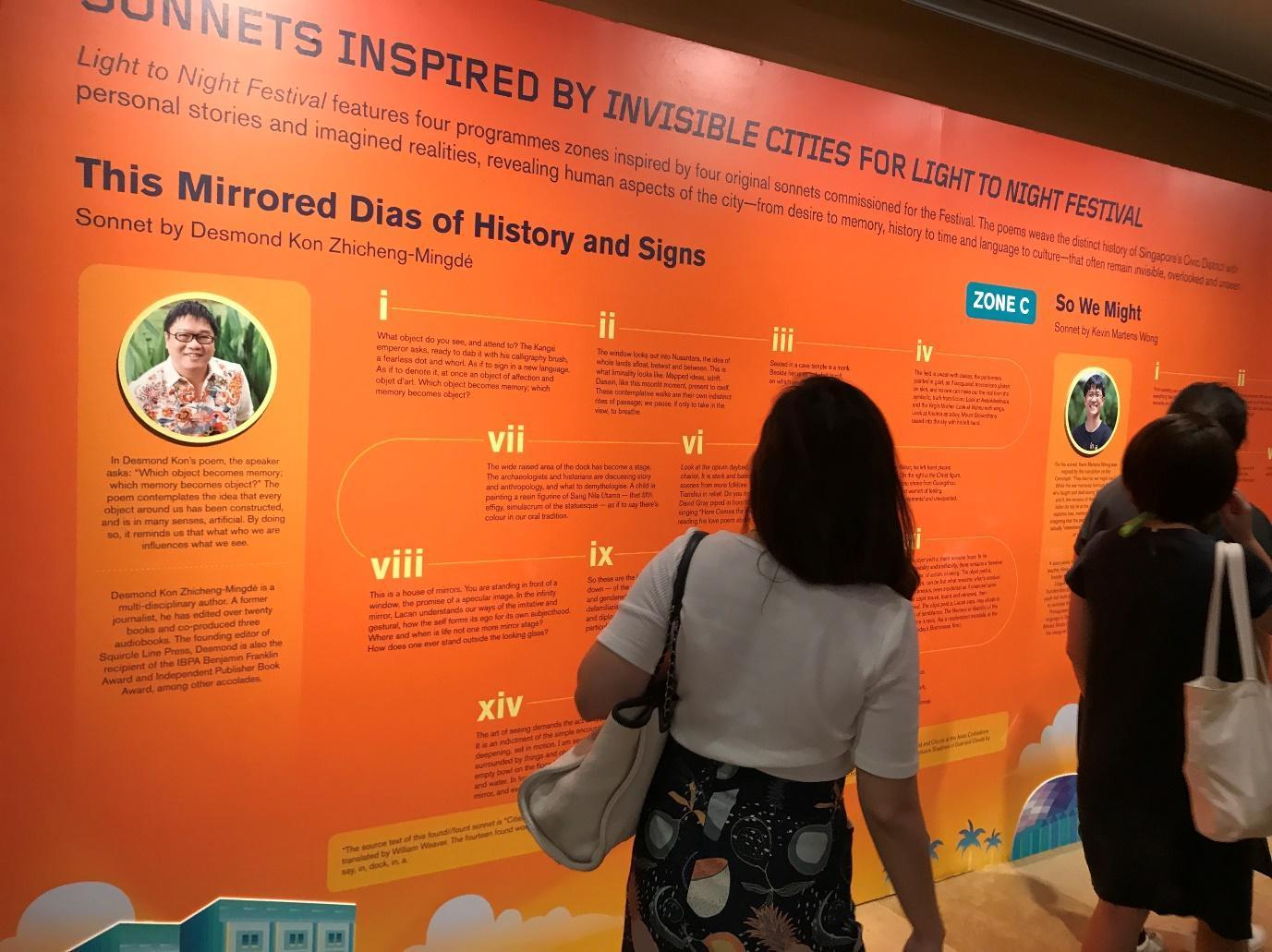 Desmond's sonnet as part of a commission by National Gallery Singapore for 2020 Light to Night Festival. Photo courtesy of Karen Kon.
The truth is there are no guarantees; then again, that's pretty much the story with all of life, isn't it? Life is a ticket that comes with no warranty, no safety net. Very few things in life hand us an ironclad contract.
So it could venture three ways. Best scenario: you become a multimillionaire philanthropist. Otherwise, best to hatch a contingency plan (have a fallback plan too). The third way is the middle course, that of the constant shuffle. Indeed, it's the bread and butter of some of the most brilliant, accomplished artists out there. 
Alas, the times are looking terribly bleak. Didn't anyone get the memo? The world is being upended. 
Stay upbeat, Happy Bards, and get ready to hustle.
The truth is there are no guarantees; then again, that's pretty much the story with all of life, isn't it?