Taylor Swift Delivers A Welcome, Soulful Surprise
Benjamin Wellesley gives his take on Grammy-winning artist Taylor Swift's eighth studio album: Folklore.
The album cover art of Folklore foreshadows the general sombre yet reflective themes found within the album's track list. Image from Alternative Press Magazine.
BY
BENJAMIN WELLESLEY
Published on
August 3, 2020
If you know me, you would know my room is a treasure trove for all things Taylor Swift. Drawers with multiple copies of her albums, walls adorned with her posters and my pièce de résistance, a signed lithograph from her 1989 era of music.
So on Jul 24, 2020, when Swift suddenly announced the release of her eighth studio album, Folklore, on social media, all signs would point to this die-hard fanatic going crazy and hyped up over a surprise new release by his idol.
Well, not quite. In 2012 when Swift released her fourth studio album, Red, I fell in love with her music – her beautiful songwriting and soulful vocals. You could feel the authenticity, the sorrow and even the joy in her music. The palpable spectrum of emotions her songs conveyed connected me to the singer.
However, her previous two album releases, Reputation and Lover, fell short of the mark for me. Reputation was a lacklustre second venture into the world of mainstream pop while Lover, besides spawning a few fan-favourite tunes like 'Death By A Thousand Cuts' and 'Cruel Summer', was yet another mediocre, disappointing entry. 
The rather peculiar detail about Folklore's release that revived my interest is the fact that there is absolutely no marketing for the album. 
For Swift, her album releases are usually preceded by months of long-drawn anticipation and garnered traction due to the release of boppy singles, cryptic social media posts with hidden meanings or even a Cornetto marketing campaign. 
Containing a tracklist of 16 songs (17 for the physical deluxe version), Folklore is by no means a simple extended play (EP) or a mini experimental project. It is a full-fledged studio album; a collection of songs in which Swift "poured all of [her] whims, dreams, fears, and musings into", she said in the caption of an Instagram post. 
For Swift to relinquish her normal marketing strategies and drop a full album just like that reflects a bold change in tone and personality. Most importantly, it feels like this album is going to be raw and jam-packed with Swift's pent-up emotions during the Covid-19 pandemic.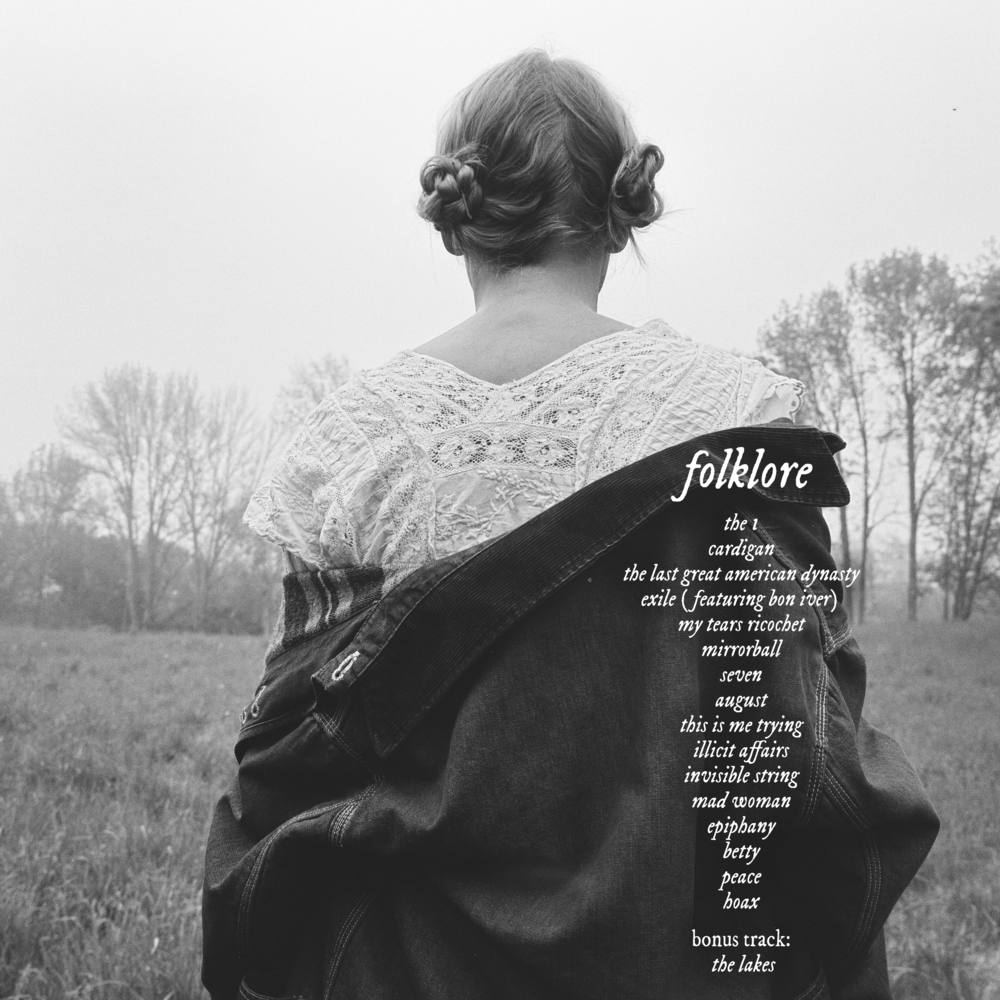 The tracklist of Folklore. Stylised with lowercase letters, the album's bonus track 'The Lakes' can only be found on physical copies of Folklore's deluxe version. Image from Genius.
It truly is a welcome and soulful surprise for me. Deviating from her contemporary pop roots that were the centrepiece of both Reputation and Lover, Swift delves into the world of indie with Folklore. When you listen to the first song of the record, 'the 1', the classical keys of the piano and the slow yet melodic tune immediately gives you a sense that Swift has shed her old electro-pop style for something more relaxed and soothing.
And this time, Swift curses. "I'm doing good / I'm on some new sh**," she nonchalantly croons in the beginning verse of 'the 1'. Another telltale sign of change, the only time Swift ever cursed was on 'I Did Something Bad' off the 2017 record, Reputation. 
Progressively, you will realise that the album doesn't have a main standalone storyline. Rather, it is a repository of different tales guided by Swift's prerogative, relaying the main emotions of reflection, sorrow and innocence.
'Exile', featuring vocals from American indie folk band Bon Iver's Justin Vernon, is an exceptional duet about two ex-lovers' harrowing tirade of their broken relationship. It is reminiscent of 'The Last Time' featuring Snow Patrol's Gary Lightbody found on Red, albeit with a more sombre undertone. 
Folklore's strongest suit lies in its ability to capitalise on Swift's remarkable storytelling ability. A lyrical maven, Swift fires on all cylinders when it comes to telling riveting and fantastical tales through her music. 
Her lyrical prowess is also accentuated by her usage of metaphors to tell her stories. 'Illicit Affairs', the album's tenth track, explores the topic of infidelity with Swift describing it as "a dwindling, mercurial high". "You taught me a secret language I can't speak with anyone else," Swift rues at the end of the song.
Not only does the wordsmith craft her own tales, she vicariously tells the harrowing stories of others too. 'The Last Great American Dynasty', tells the story of one Rebekah Harkess, a rich heiress that owned a Rhode Island mansion called the Holiday House which Swift purchased in 2015. Swift parallels her life under the limelight to that of Harkess, and subtly shows how elements of their lives intertwine.
In a note to fans, Swift says: "I found myself not only writing my own stories, but also writing about or from the perspective of people I've never met, people I've known, or those I wish I hadn't."
Sonically, the album utilises instruments to its favour, switching up the tempo based on the story Swift wants to tell. 
The thirteenth song 'Epiphany', which touches on her grandfather's military experiences in 1942, is about finding solace amidst times of despair. The track carries a transcendent and gospel-esque tune, which eventually fades and melds well with the next track, 'Betty', an ironically upbeat tune infusing the lighthearted sounds of harmonicas about a fictional 17-year-old girl regretting her involvement in a love triangle.
Folklore is a catalog of Swift's overarching thoughts and emotions. To put it simply, the album is like a gallery of curated art pieces to be appreciated only by a handful. With emotionally complex storylines, you really have to immerse yourself in Swift's music to understand the album.
Having an unorthodox style in terms of its indie sonic composition, the songs don't have the catchy choruses and groovy beats that leave a lasting impression in the minds of listeners. Due to the lack of the formulaic mainstream pop elements, the album doesn't entice people to want to play the full list on repeat. The songs aren't your typical summer beat.
It would seem that Swift isn't looking to make music that panders to everyone; she's making music that resonates with herself and her already large legion of Swifties. She's foregoing the mass appeal element of her previous pop albums, and going for music that comes from the soul and embodies her personal feelings.
And if Swift continues with this no holds barred, emotionally authentic approach for her future records, then it's safe to say that my room may be populated with even more posters and merchandise of hers.