Green City Gardeners Take Root
City folk tell Tang Jia Wen how anyone can reap the benefits of incorporating nature into their living spaces.
BY
TANG JIA WEN
Published on
July 27, 2020
Every afternoon, Gwee Keong, 67, heads downstairs to the grass plot beside his void deck to tend to his plants. 
Referred to affectionately as "Uncle" by residents, Mr Gwee has become a familiar figure to those living in the Woodlands estate after he shifted his houseplants on the fifth floor to an open grass plot for more sun. Within a year, his self-made garden has grown from 10 plants to around 70.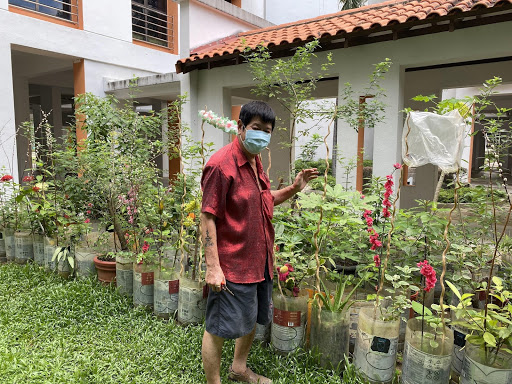 It has been nearly a year since Mr Gwee started growing his plants at the public shared space. Photo by Tang Jia Wen.
"It's good exercise for the elderly [like me]," Mr Gwee explained in Mandarin, when asked about the reason he started gardening. A notable change in temperament and increased opportunities to meet other residents were also reasons why he became a huge urban gardening advocate.
 "When I see children admiring my plants, I say to them, 'You feel like my grandchildren. If any of my plants catch your eye, I'll give it to you!'" he mused fondly.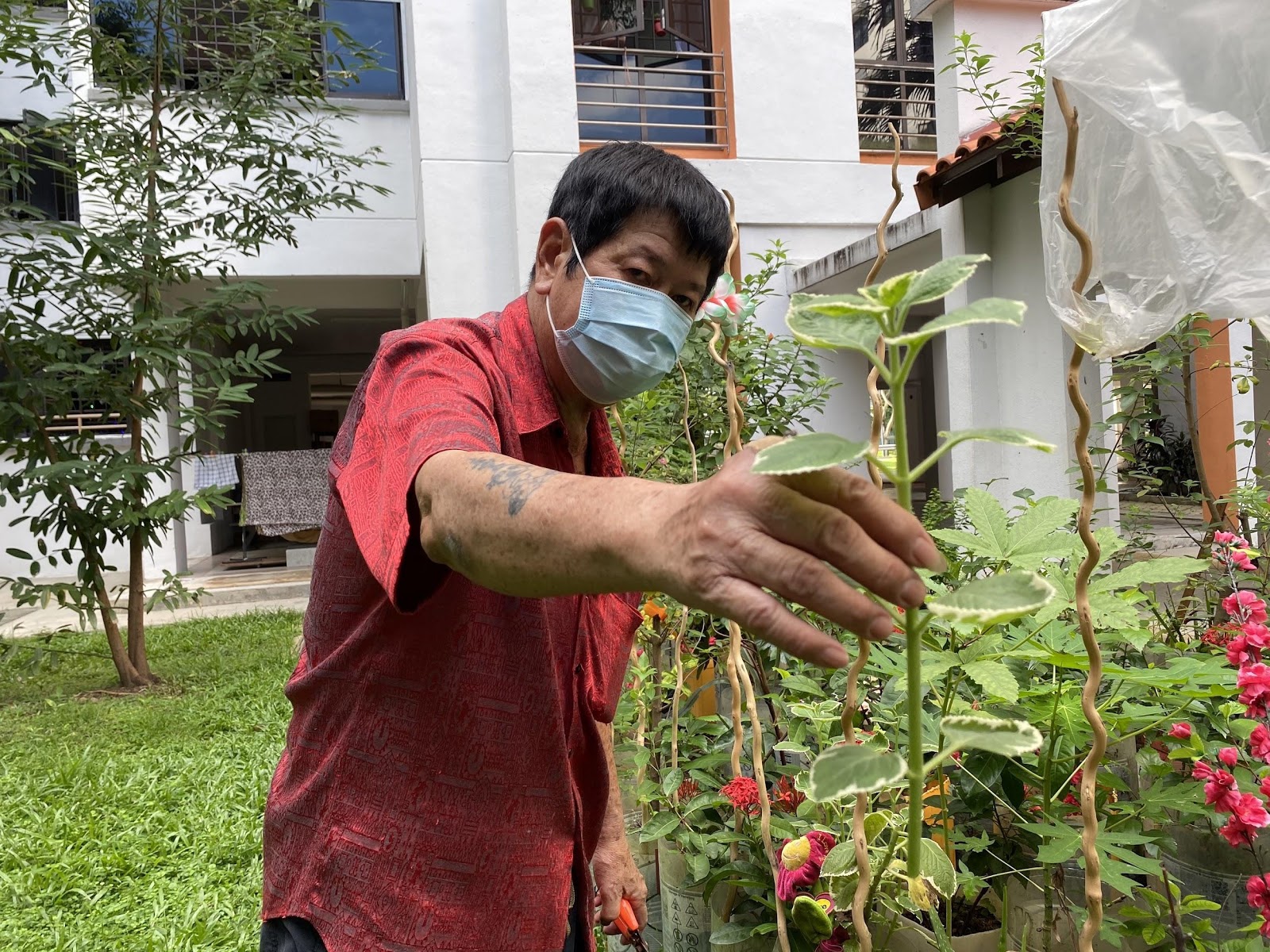 A huge advocate for urban gardening, Mr Gwee often generously gift cuts from his own plants for others to propagate at home. Photo by Tang Jia Wen.
It would seem that city dwellers are thinking more about incorporating nature into their living spaces and their lives – and the community continues to grow. According to an independent survey conducted by HYPE, 72 out of 102 respondents noticed that more people have gotten houseplants since the circuit breaker was implemented.
Like Mr Gwee, Neo Xiaoyun, 24, was able to meet people from all walks of life through urban gardening.
Currently a deputy manager at the Civil Aviation Authority of Singapore (CAAS), Ms Neo embarked on her gardening journey with the urban farming team at Yale-NUS College during her time studying there.  
However, after graduating in 2019, she yearned to belong to a community of urban gardeners again. That was when she found Ground Up Initiative (GUI), a non-profit group nestled in the heartlands of Yishun.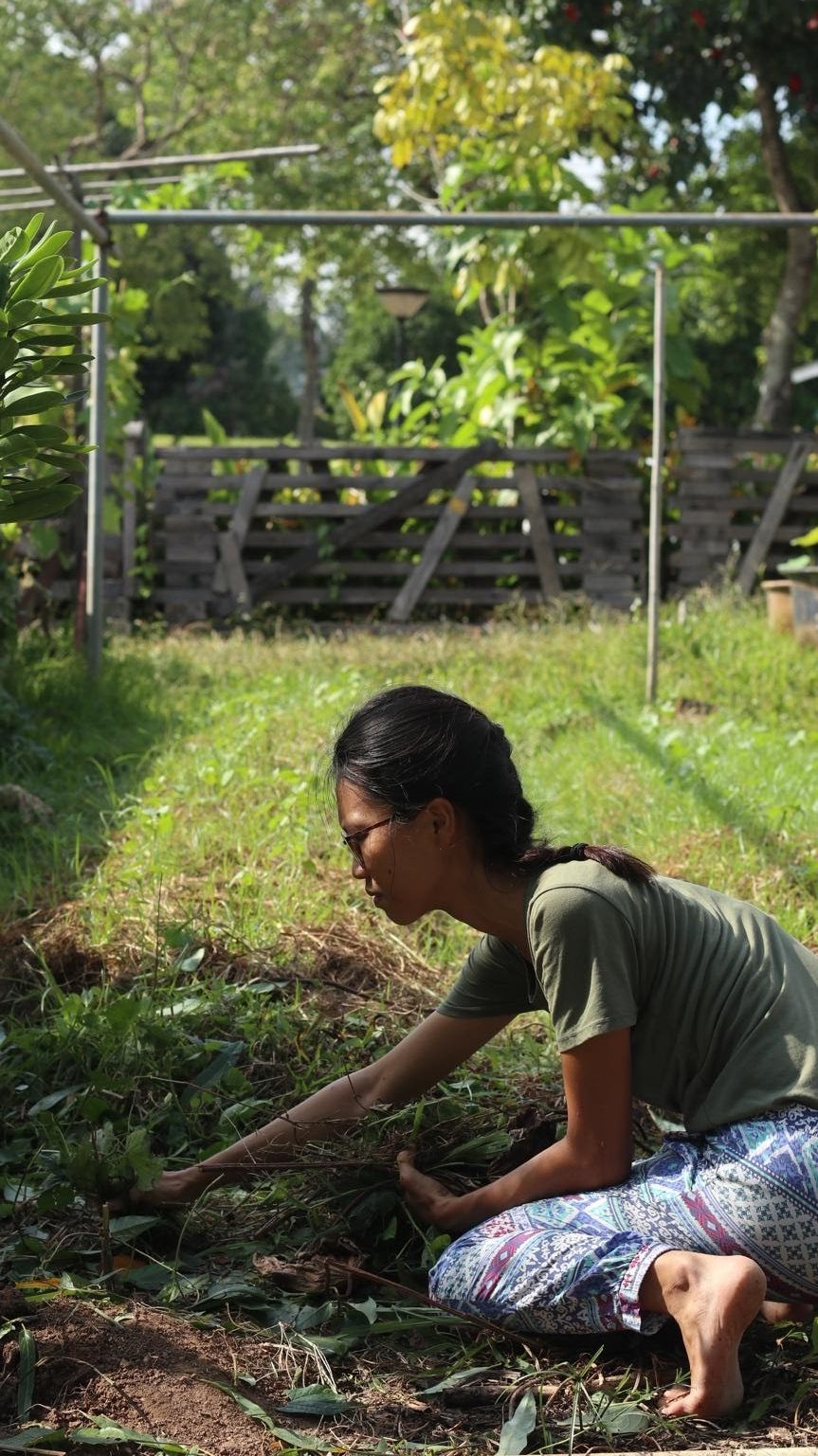 As her father is an avid gardener, Ms Neo has always loved gardens, plants, nature reserves, and their associated activities such as hiking. Photo courtesy of Neo Xiaoyun.
"A lovely thing about GUI is how we have all ages on the farm. The older farmers are knowledgeable about the plants' functions and properties… Their knowledge inspired me to go Google more about the plants we had in GUI," Ms Neo said.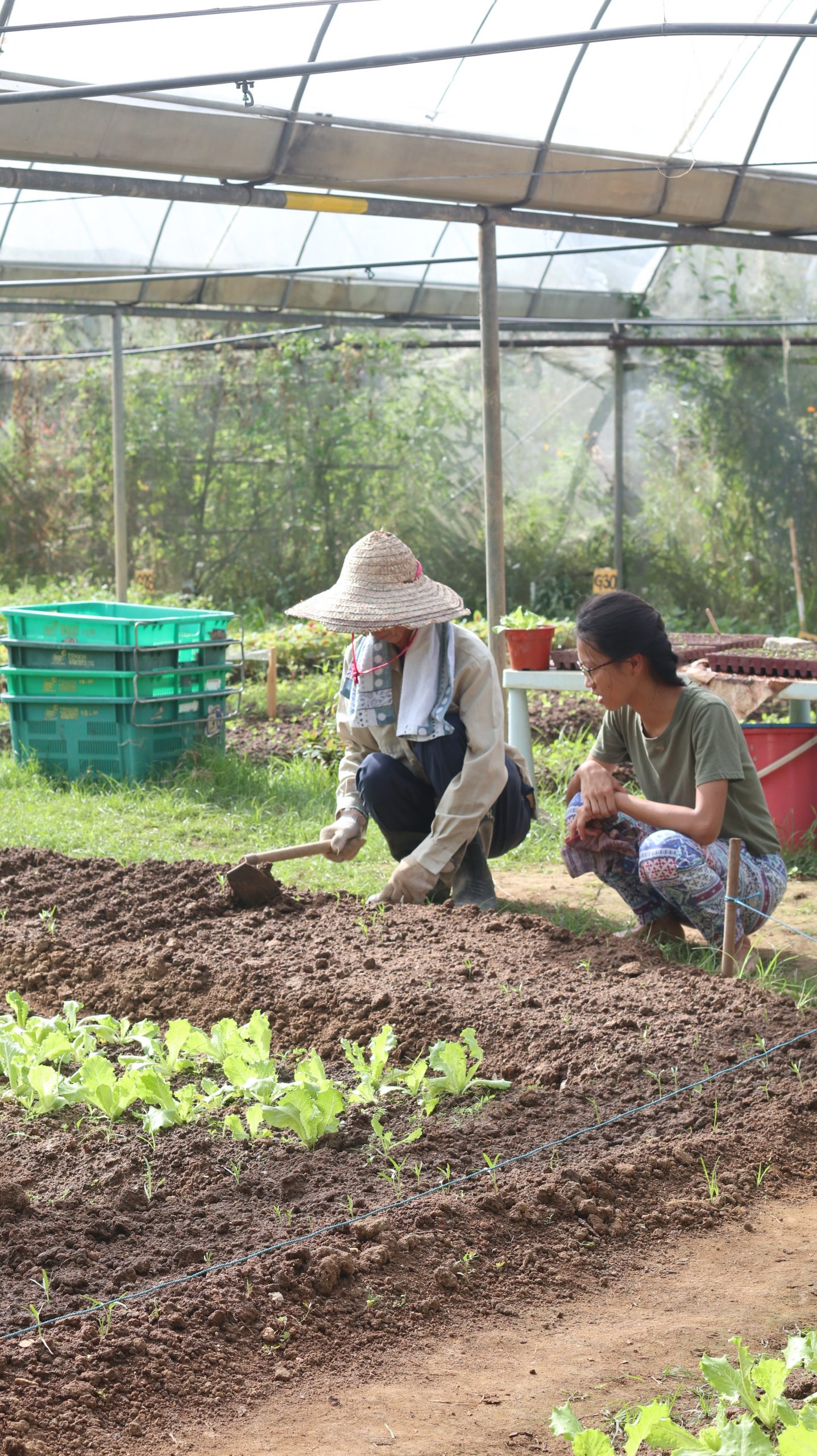 After being inspired by the older farmers, Ms Neo (right) learnt more about the plants at GUI. For instance, she learnt that butterfly pea dyes nyonya rice and cakes blue, colours teas and is an effective legume. Photo courtesy of Neo Xiaoyun.
While Ms Neo revels in the communal interaction at GUI's spacious farm, Winson Lai, 36, limits his gardening ventures within the confines of his home.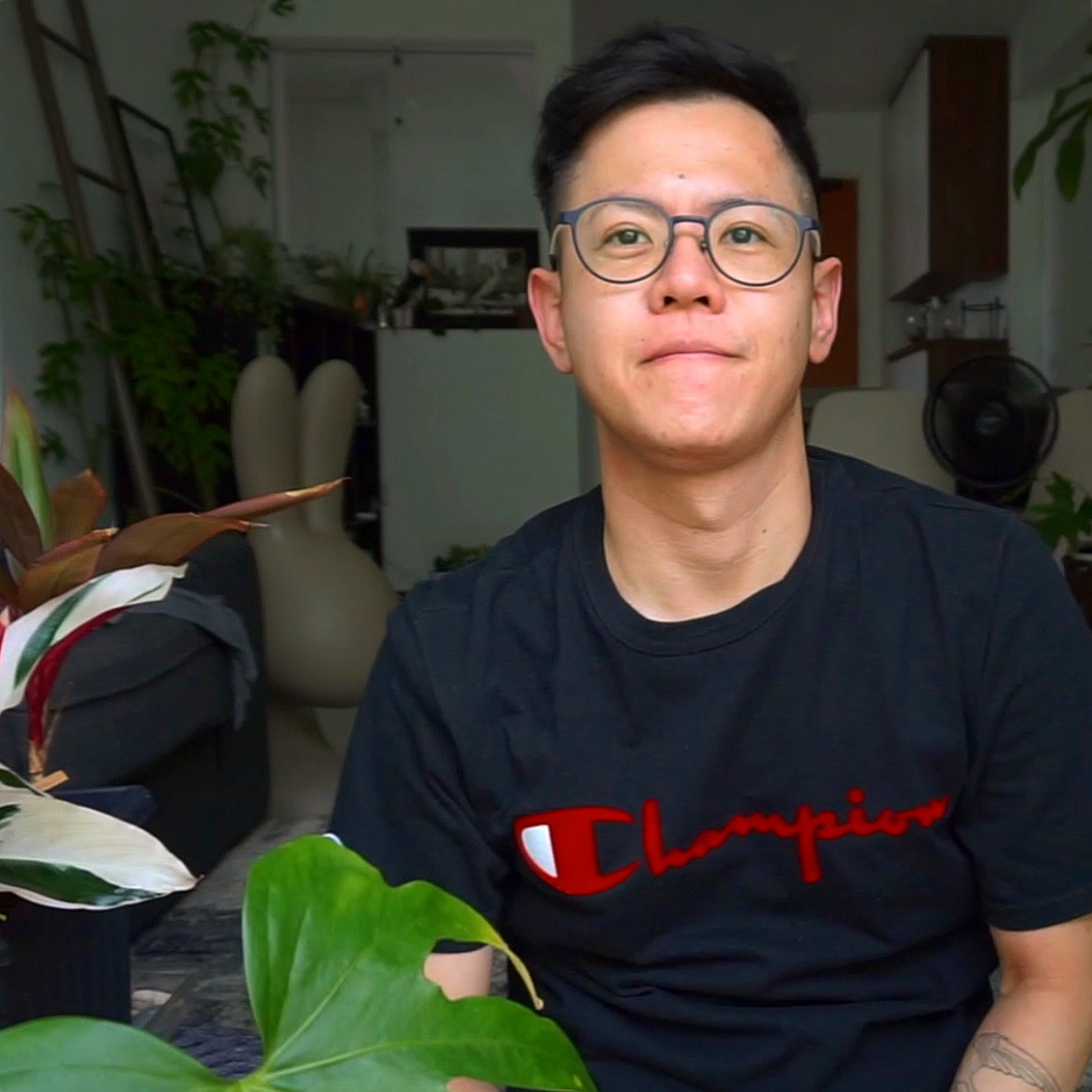 Mr Lai spreads his dedication and love for gardening and design through his Instagram page (@greentisan) and on his own website, qing.sg. Photo courtesy of Winson Lai.
After Mr Lai got his own apartment, a resale Housing Development Board (HDB) flat in Punggol, he became a strong advocate for home gardening.
"Now that I have my own living space, I wanted to show people that you don't need a huge outdoor garden, or [to] be living in a bungalow to create your own garden oasis," he said.
Mr Lai's passion for gardening stemmed from his childhood days, and he has since fused this with another interest of his: designing. 
Holding a Diploma in Visual Communications, the Temasek Polytechnic alumnus recalls creating handicrafts and paintings in secondary school, which subsequently led to the hobby of aquascaping and terrarium building. To Mr Lai, the process of creating living art from nature is always a therapeutic experience.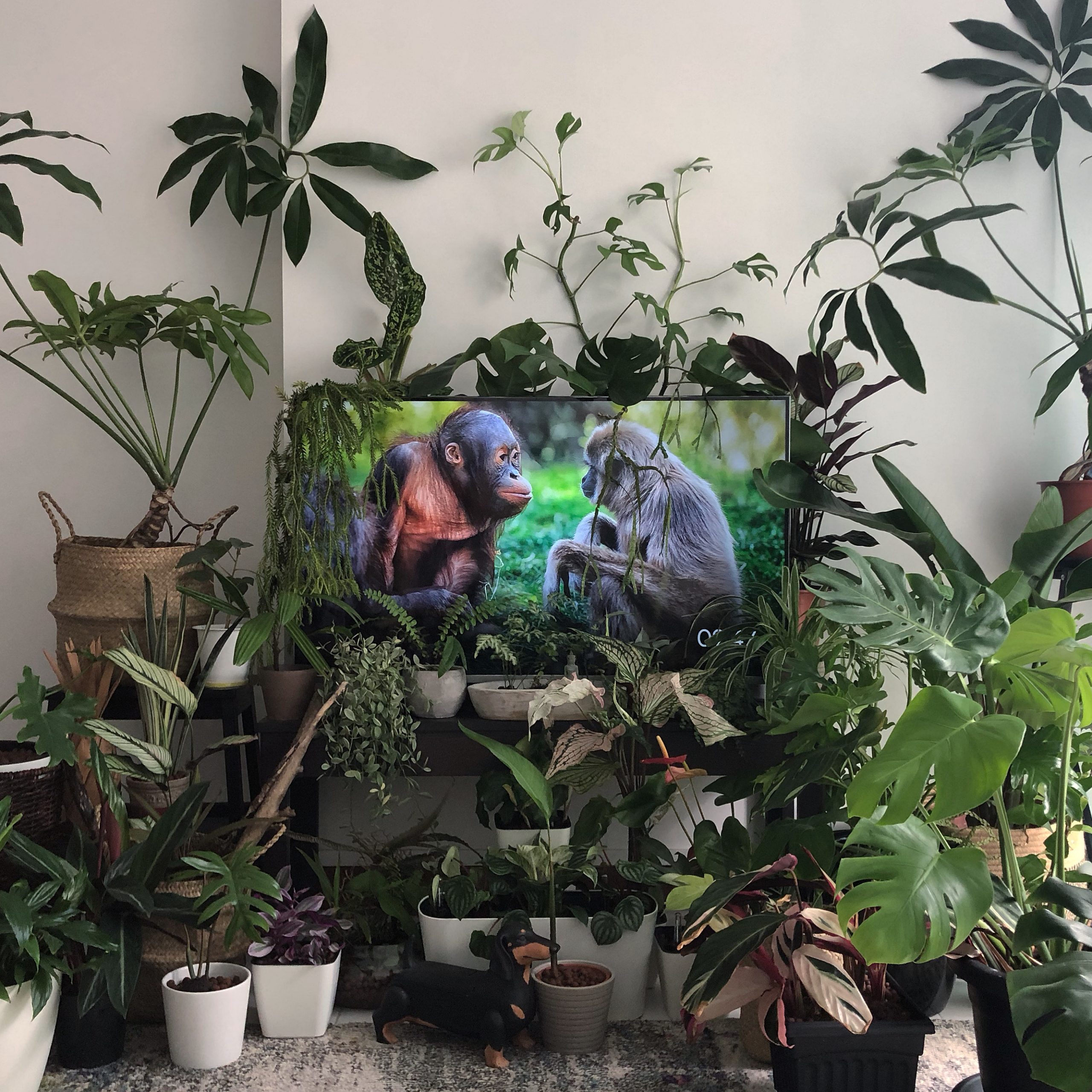 Mr Lai has amassed over 1,000 followers on Instagram, where he conducts house tours to encourage interest in city dwellers to embrace greenery in their living spaces. Photo courtesy of Winson Lai.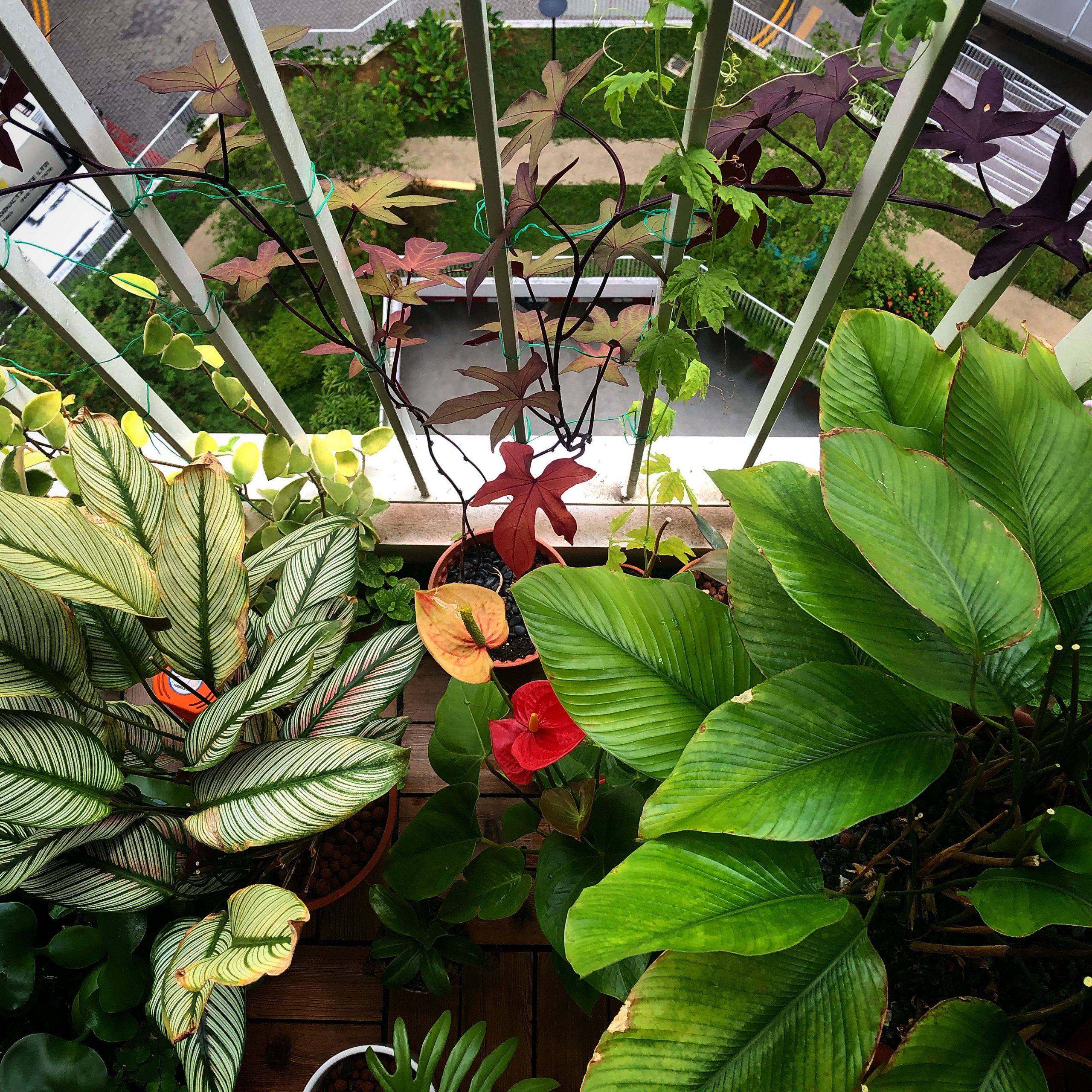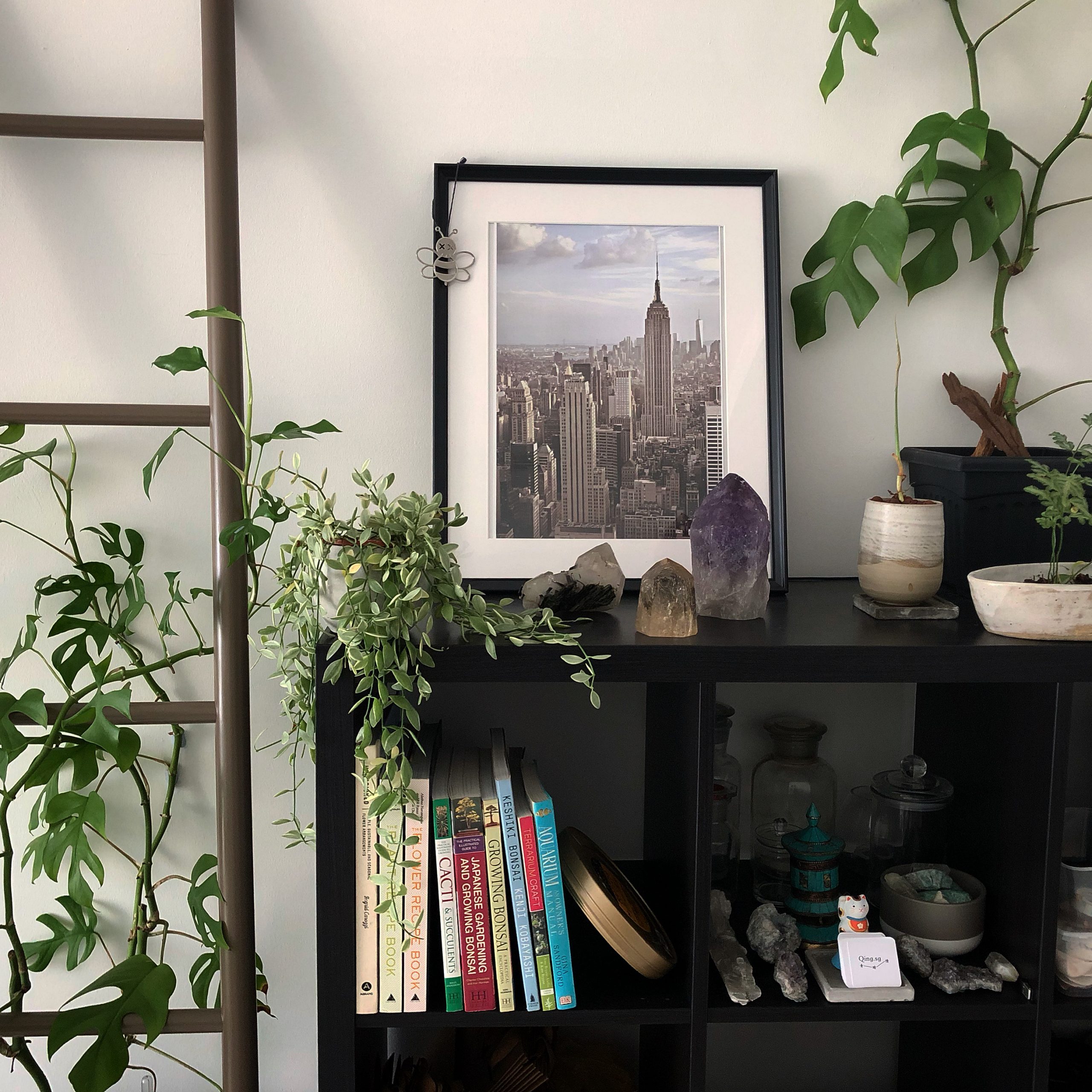 Mr Lai's apartment reflects his love for design and gardening. Photos courtesy of Winson Lai.
His combined passions culminated in the creation of his own website, qing.sg, where people can purchase specially curated plant collections to begin their gardening escapades. He is also known as @greentisan on Instagram; his posts encourage city dwellers to embrace greenery in their lives, and in turn, reap its benefits.
Kevin Cheong, 44, a former secondary school teacher, was motivated by his passion for exotic plants to set up his own venture, Pick a Plant, over 10 years ago. 
Mr Zeek Tan, a marketing and special project and business development manager at Pick a Plant, explained: "The problem presented to Kevin then was that rare and exotic tillandsia (air plant) [was] very hard to get locally or in Asia. Tillandsia is such a new plant that many don't really know how to grow it."
This realisation, along with a passion for exotic plants, motivated Mr Cheong to source for many rare and exotic plants to be imported into Singapore from various countries in the world. 
Mr Cheong spent years reaching out to the public to share his knowledge and is regularly invited to speak at events. 
Mr Tan stressed the importance of knowing basic light, watering and nutrient requirements. He said: "The most common misconception city dwellers have is that indoor plants mean you can put them anywhere in your home." 
He added: "Even if we are mentally occupied by our urban lifestyle, our bodies still remember our humble beginning with nature. Most of us will find that looking at plants on a stressful day can help relax us, and some interaction with plants like watering them can help energise us." 
Even if we are mentally occupied by our urban lifestyle, our bodies still remember our humble beginning with nature.
Pick a Plant has graciously given HYPE readers a storewide discount on Shopee @plantandplant! Enjoy the code 'PLANHYPE5' anytime from 8 Aug to 14 Aug 2020!
Do check out their Facebook @pickaplantsg and Instagram @pick.a.plant too!