CCAs Met With New 
e-Xperiences
With all face-to-face co-curricular activities put to a halt, three Ngee Ann Polytechnic CCAs tell Lee Zhi Ying how they continued with their activities.
BY
LEE ZHI YING
Publicity Manager of HYPE Issue #51
Published on
July 27, 2020
It is no longer the norm – at least during the Apr 2020 semester – for students to stay in school until late to prepare for their much-anticipated annual school events, competitions, or even just weekly meetings as part of their co-curricular activities (CCAs). 
CCAs no longer take place as usual.
The Singapore government announced a circuit breaker from Feb 5, 2020, suspending assemblies, camps, mass celebrations and other large groups, and communal activities at schools to contain the spread of Covid-19.
This forced CCAs at Ngee Ann Polytechnic (NP) to ramp up their efforts to explore new digital methods to sustain their club activities. 
NP's Hip Hop dance club, New Revolving Age (NRA), launched a myriad of digital content following the hashtag #NRAttack on its Instagram page to keep members engaged after the suspension of performances, competitions and physical training sessions.
"The online activities we put out consisted of a workout routine, short dance history knowledge quizzes, and an all-in-one master list of dance classes to support the local dance scene," said Nicolette, 19, a final-year Arts Business Management student who is the treasurer of NRA.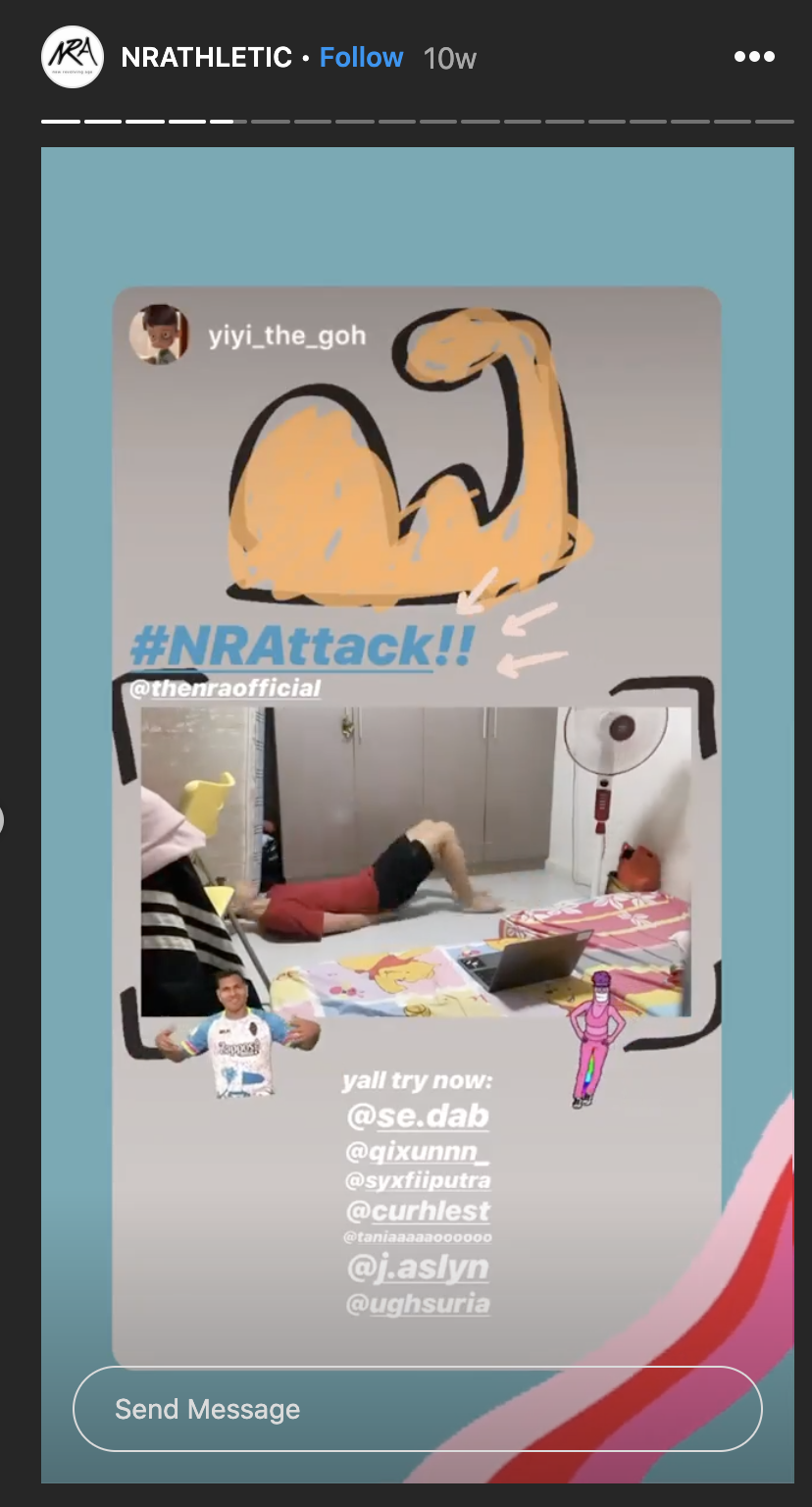 The NRA committee encouraged members to record themselves doing the workout routine while confined to their homes. Image from NRA's Instagram page.
Under the banner #NRAthletic, the committee encouraged their members to post time-lapses of themselves doing the workout routine on their personal Instagram pages, tagging their friends to challenge them to do it as well.
It was an initiative welcomed by many. "Not only did the current club members respond positively, even their family members and our alumni participated in #NRAthletic too," Nicolette said. 
Besides getting the members moving, the committee also ensured that they stayed grooving even when all physical training eased. 
The club made the switch from training sessions in their studios to dancing online from their own homes. It currently organises batch training and mass workout sessions every week. 
Video conferencing app Zoom continues to be their primary mode of hosting training sessions.   
"We are planning out numerous activities such as a virtual camp to keep the club as bonded as possible through online means," Nicolette said.
NRA instructors hold weekly batch training through Zoom where members train from the comfort of their own homes. Video courtesy of Deborah Tan.
NRA is not alone in sustaining club activities in the digital space. NP Lifesaving Club felt like a fish out of water when water-related training became impossible with all public swimming pools closed during the circuit breaker.
To keep the club afloat, the committee decided to switch to land training instead, focusing on maintaining the fitness level of their club members. 
"We conducted frequent online land training sessions through online platforms such as Discord and Microsoft Teams in order to not let the club stay stagnant," said Darren Lau, 19, a final-year Engineering Science student who is the president of NP Lifesaving Club.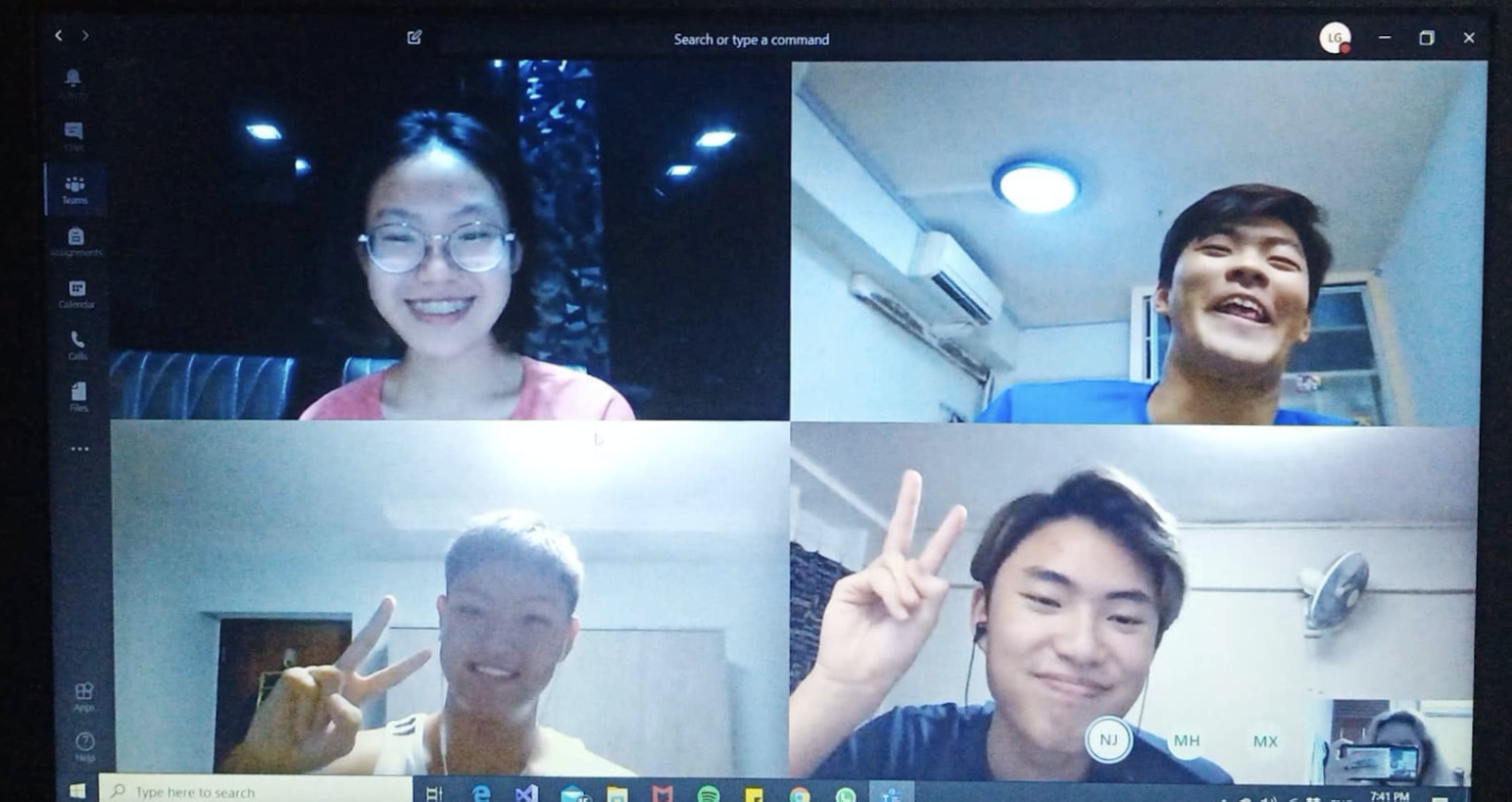 NP Lifesaving Club's orientation session with first-year students on Apr 29, 2020. It was conducted on Microsoft Teams, where they organised a mini ice-breaking session and an introduction to the club. Image from NP Lifesaving Club's Instagram page.
In a bid to attract first-year students, the committee tried to keep their Instagram account as active as possible throughout the recruitment period, encouraging first-year students to ask questions pertaining to the CCA via question bars on their Instagram stories.
However, integrating new members into the club was no easy feat. "Some new members could be too shy to speak up in the first few sessions, and it took a while for the committee to introduce ourselves and connect with them," Darren recounted. 
The committee gained new learning experiences while planning their online training sessions and virtual orientations.
"I would say it's a blessing in disguise, as we got to challenge ourselves in planning a completely virtual training from scratch since we have no reference from the previous batch," said Wendy Siom, 20, a final-year Nursing student who is the vice-president of NP Lifesaving Club.
I would say it's a blessing in disguise, as we got to challenge ourselves in planning a completely virtual training from scratch since we have no reference from the previous batch.
As it remains uncertain whether physical training and competitions will resume in the near future, the club is currently focusing on strengthening the bonds among members. 
So far, it has introduced movie and game nights to engage members during the circuit breaker. 
Likewise, Stage52, a theatre and events based CCA, has explored new mediums for publicity outreach and engagement. 
To attract new members, the committee took to social video-sharing platform TikTok to recreate a slew of trendy and relatable video content.
Stage52 uploaded a TikTok video on Jul 12 to give a brief introduction to their different sub-committees. Video courtesy of Stage52's Instagram page.
The committee also 'crashed' four first-year Mass Communication tutorial lessons to conduct brief online sharing sessions about the CCA. 
"With the permission of various lecturers, we 'intruded' the different classes online to let them know more about our club and to promote our upcoming meetings where they can find out more about us," said Lynn Sim, 18, vice-president of Stage52.
The second-year Film, Sound & Video student also shared that the committee would always split their large group into smaller groups during their weekly general meetings on Wednesdays. 
"It is to ensure that everyone will have a better chance of participating in the different activities and feel more included," she explained.
It is to ensure that everyone will have a better chance of participating in the different activities and feel more included.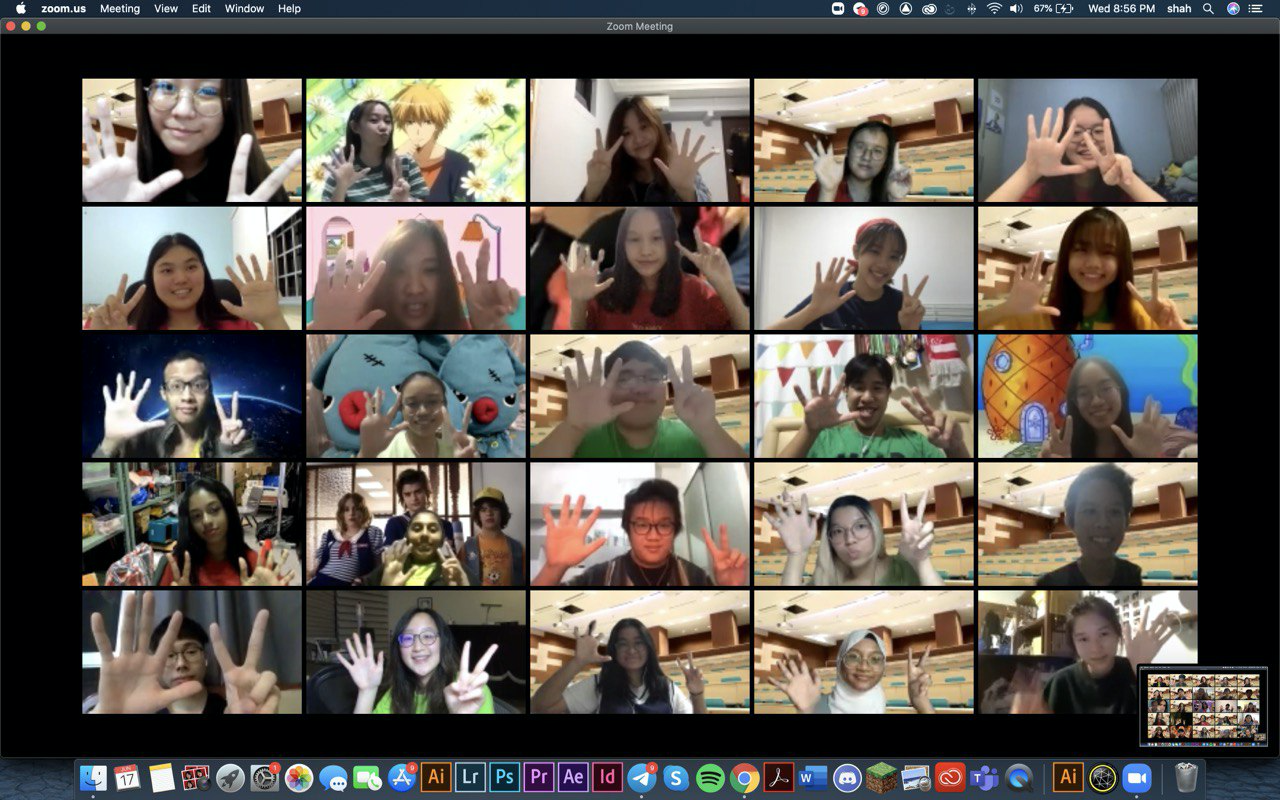 Stage52 organised their first annual general meeting on Jun 17 through Zoom. Photo courtesy of Stage52.
In the coming months, Stage52 is planning to integrate online platforms in both the preparation and execution of their events.
"We understand that bringing everything online could affect the culture that Stage52 has been having for the past 11 years and the experience that the new members will have during the event preparation," Lynn said. 
"With the circumstances now, the committee is trying to give them the most authentic experience that we had as first-year students so that they will not be short-changed."
The pandemic may have thrown a curveball to the various CCAs, but it has also reinforced the clubs' unity and strength.
"The success of our club so far has been limited due to certain factors, but I believe that my committee will be able to work through these hard times together," Darren said.