Youths Get "Crafty" As Time Stands Still
Being stuck at home during the circuit breaker has been the push for youths to develop skills. Tan Yan Hui talks to three who have ventured into baking, embroidery and nail art.
BY
TAN YAN HUI
Published on
July 7, 2020
Hobbies that three youths toyed with occasionally became passions that they could indulge in when the Covid-19 pandemic became grim reality. The forced lockdown in many countries made people stay at home to prevent the spread of the virus. 
It was as if time stood still – and time was all the youths had on their hands. 
Janicessa Tan, 18, decided to pick up a new skill: embroidery.
"I saw this trend of embroidery art going [around] on social media so I decided to try it out," saidJanicessa, who is waiting for the university semester to start.
Having had more time to practise the basic embroidery stitches, she adds that learning the various stitches before moving on to create a fully designed artwork is important. She elaborated: "Even though [the artwork] may look nice in front, the back is very confusing." This may cause beginners to stitch into their other stitches and ruin the back of the design.
It is also possible to create an artwork with a 3D design. Since the circuit breaker started over a month ago, Janicessa embroidered over five different floral and nature designs. Drawing inspiration from Pinterest and social media, she says: "It's important to ensure that before you stitch a whole design, sketch it out on paper first and plan your thread out."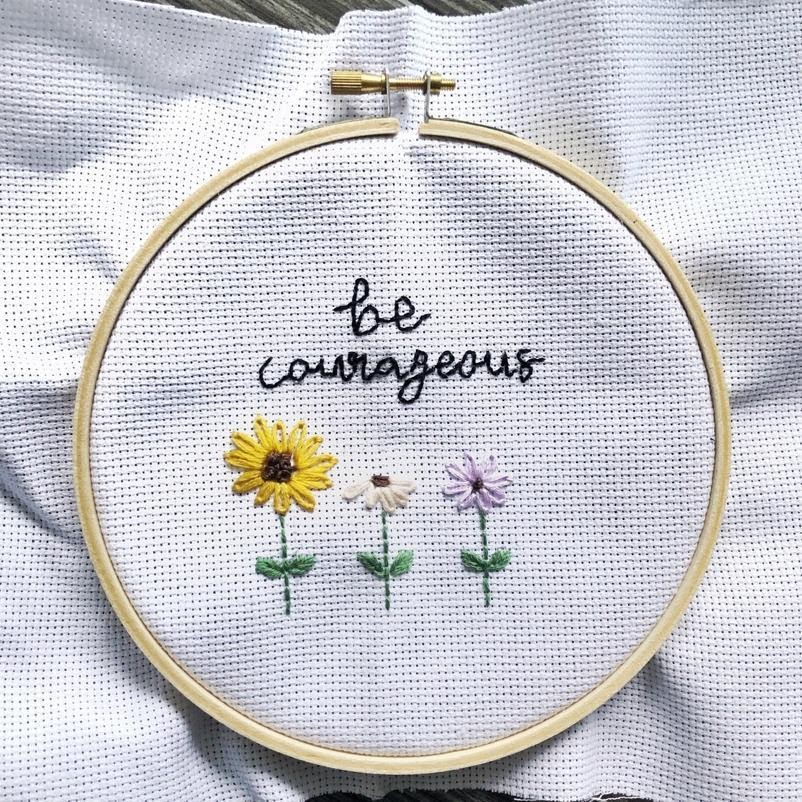 Using different techniques like backstitch, satin stitch and French knot help add more dimension to the artwork. Photo courtesy of Janicessa Tan..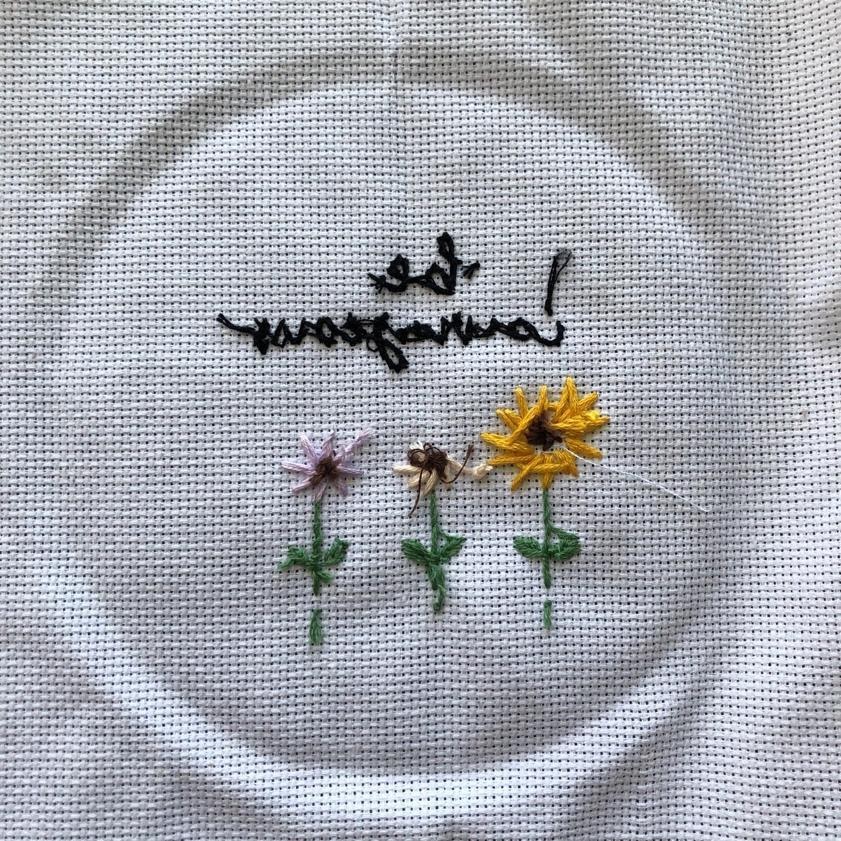 Planning your design out first will help add more dimension to the artwork. Photo courtesy of Janicessa Tan.
Just like how learning the right stitching technique is quintessential to an embroidery artwork, having an aesthetically pleasing end-product is a highlight of baking.
For Sherman Choo, 18, a final-year Electronic and Computer Engineering student at Ngee Ann Polytechnic, baking has become a skill he uses more often now than ever before. 
He said:"[Baking helped] me to kill time and distract me from the duration of the circuit breaker. 
Sherman has been passionate about cooking and baking since he was a child, citing his successful attempt at baking a banana cake with only six ingredients as one of his favourite moments. 
A new recipe that Sherman has been trying to master is macarons: a popular confection made up of two round, flat, almond flour-based cookies with a filling between them like jam or chocolate ganache. Despite having baked them twice in the past month, Sherman's deflated macaron shells have once again crushed his hopes of achieving the perfect macaron.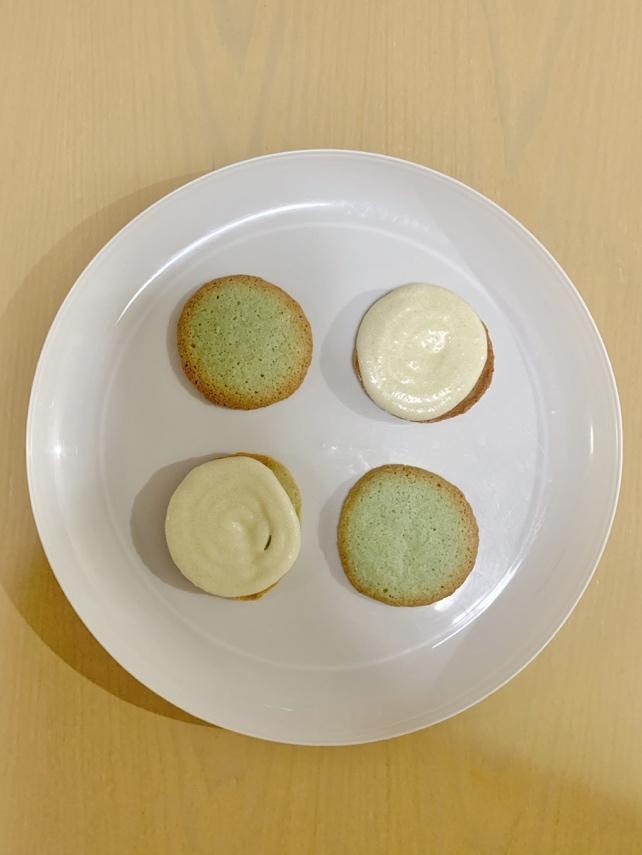 Sherman's second attempt at making macarons resulted in flat cookies, a prime example that nothing goes right every time. Photo courtesy of Sherman Choo.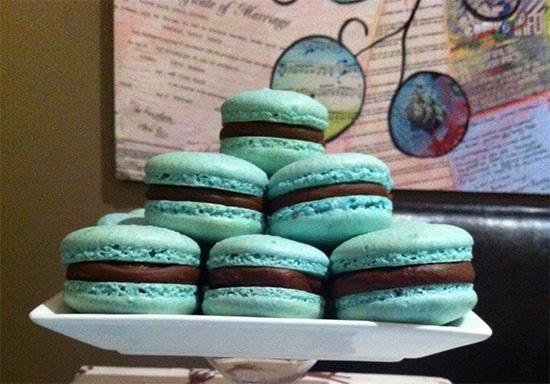 How a normal macaron is meant to turn out with a filling between two meringue shells. Image from howtocookthat.net.
Despite the challenges along the way, an unfazed Sherman shared that it is important to constantly keep trying. 
"If youths are trying to start doing new stuff, that factor really comes into play … when you try something new and you gain confidence from it, that's how you [continue] to try newer things," said Sherman.   
Another youth who picked up a new skill is Suzannah Lum, 19, a final-year Mass Communication student from Ngee Ann Polytechnic. The budding gel nail enthusiast was initially trying to create nail art designs with normal polish and was frustrated when she failed to achieve the desired effects.  
However, what really sparked her interest in learning the art of gel nails was the expensive price tag for a gel nail manicure at a professional salon. Suzannah shares that she paid around S$50 to S$80 for a simple gel manicure with design, which led to her mum scolding her for spending money unnecessarily.  
"I saw online that it was really affordable to buy the equipment needed [for gel nails] so I bought it to experiment with different embellishments," Suzannah said. At the price of just a single salon gel manicure, Suzannah managed to paint her nails numerous times with the equipment that she bought online.  
She added that normally, it costs more to do extra designs at a salon, but this way "you can do what you like for a lot cheaper".  
Having experimented with gel nails since the second-half of 2019, she decided to pick up a new gel nail technique during this stay-at-home period by learning to do gel nail extensions and creating 3D charms using silicone moulds.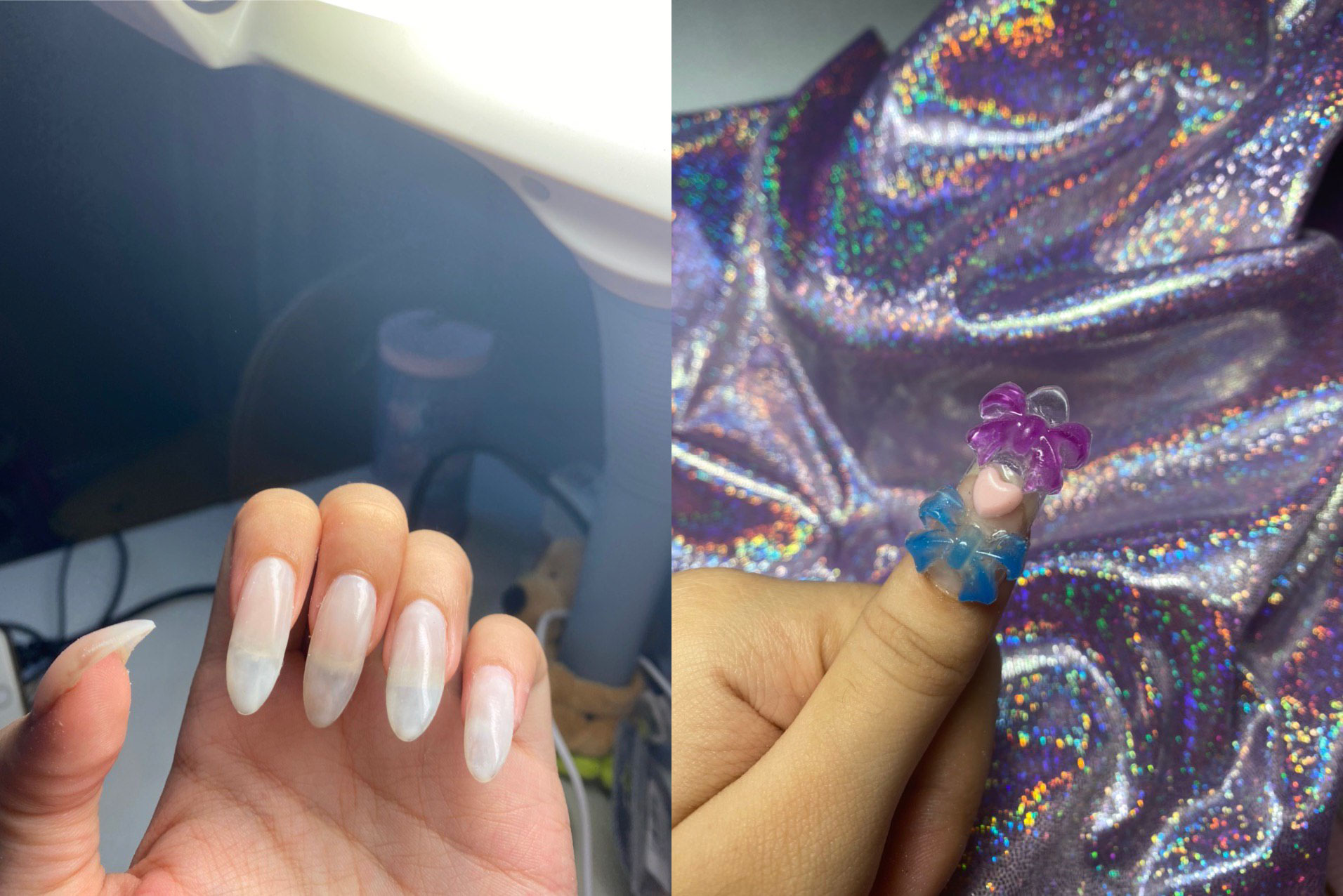 To put on gel nail extensions, glue the plastic tip to the nail and build it up with hard gel (left). 3D charms can be made using gel nail polish or acrylic (right). Photos courtesy of Suzannah Lum.
A tip Suzannah has for youths who are interested in painting their nails would be to scroll through nail art designs on Pinterest and to find tutorials on YouTube to guide them. She recommended Nail Career Education on YouTube as a good starting point.
Suzannah advised: "You don't have to buy a lot of equipment. Just try to do what you can with what you have."
"You don't have to buy a lot of equipment. Just try to do what you can with what you have."