Street Dancing In The Rush Hour
Plaza dancing, or guangchang wu, is one of the most popular leisure activities in Wuhan as Kiran Pillai finds out during a five-week Overseas Immersion Programme at the Wuhan Institute of Technology in 2019.
Han Xin (left) dancing in the evening alongside her friends during their practice outside Yue Huo Li Mall, a local mall in Wuhan.
STORY BY
KIRAN PILLAI
PHOTOS BY
JULIAN TAY
Published on
July 7, 2020
Though surrounded by flashing lights, bustling crowds and screeching traffic, these elderly citizens remain unfazed as they continue to perform their traditional street dance.
Plaza dancing, better known as guangchang wu in Wuhan, is an extremely common sight in public places such as malls, parks or just about anywhere with an open space. 
It became popular in the mid-1990s, and has grown from a leisure activity to a competitive sport.
In Wuhan, the capital of China's Hubei province, malls such as Optics Valley Mall and Yue Huo Li Mall are common places where these groups perform their art. 
The participants, most of whom are aged 40 and above, perform a traditional Chinese dance that tells a story with a rich background.
Han Xin, 40, who has been dancing for a year, said in Mandarin: "If you go to any mall in the morning or evening, you will definitely see a plaza dance troupe."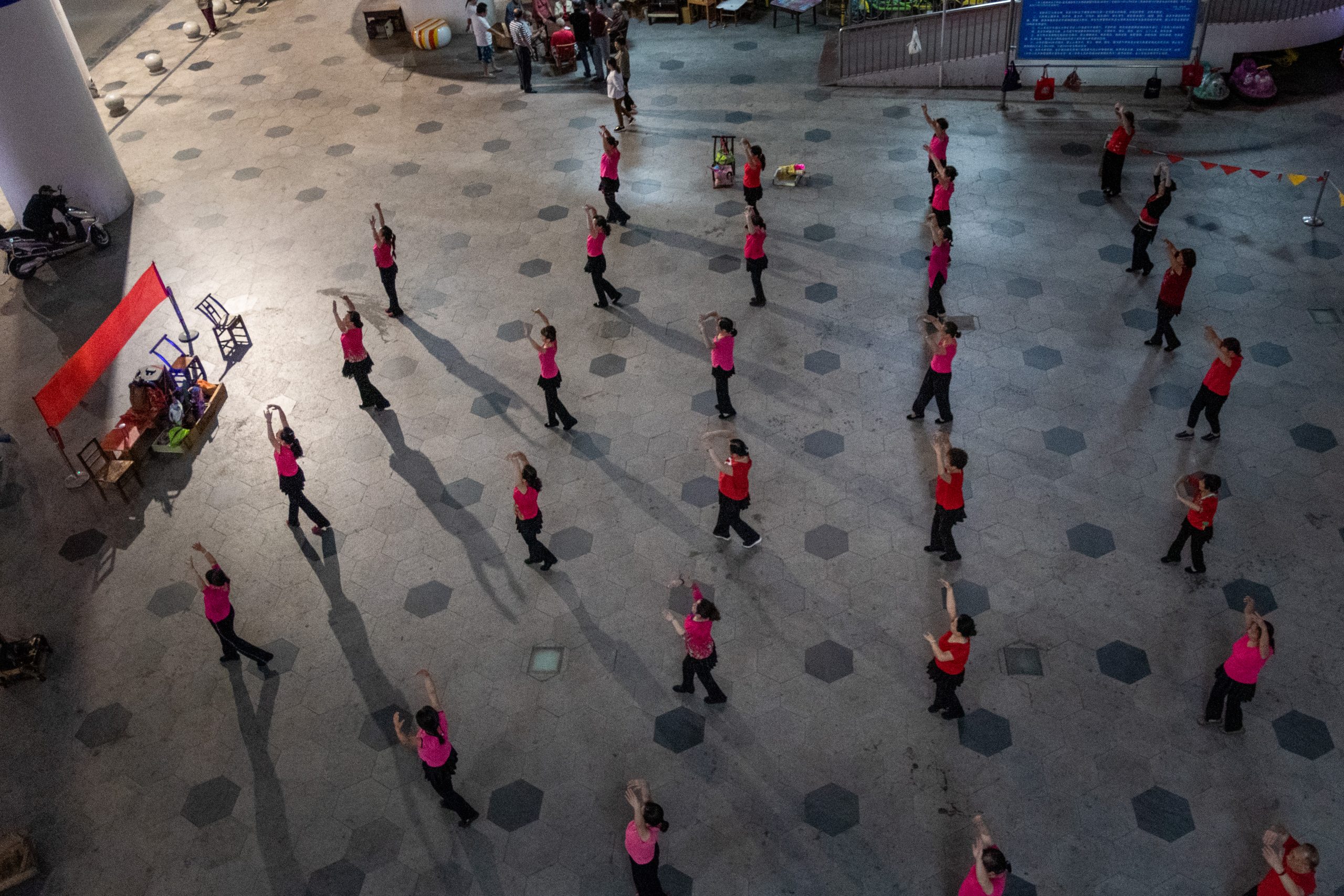 A troupe of street dancers practicing at a communal square in Yichang, Hubei.
At Yue Huo Li Mall, the troupe is taught by Zhang, 50, who has been dancing for more than 20 years.
Mdm Zhang said in Mandarin: "Plaza dancing has been going on for an extremely long time. It started out as people wanting to practise their dance on the streets. Someone would play music and start dancing, and as people walked by, some of them liked the dance and joined in, and it eventually became a whole group coming to practise every day."
Mdm Zhang has a large following of students. There are also universities, such as Minzhu University and Guangdian University, that offer classes like these to interested elderly citizens.
Although they do not perform for big events such as Chinese New Year or Mid-Autumn Festival, they have competitions where troupes compete against each other and showcase their dance skills. 
Mdm Zhang says: "There are dance competitions outside of Wuhan, and I have taken part in many of them during my youth. Anyone in my troupe can register and take part in competitions."
The dance is extremely graceful and elegant, with elements of traditional Chinese dance and also various forms of martial arts, most notably Taiji. The dance is not easy to learn as well. It incorporates elaborate twists and turns that make you dizzy, poses that require a lot of willpower and control to hold and also a long period of grueling training to perfect it.
There are dance competitions outside of Wuhan, and I have taken part in many of them during my youth. Anyone in my troupe can register and take part in competitions.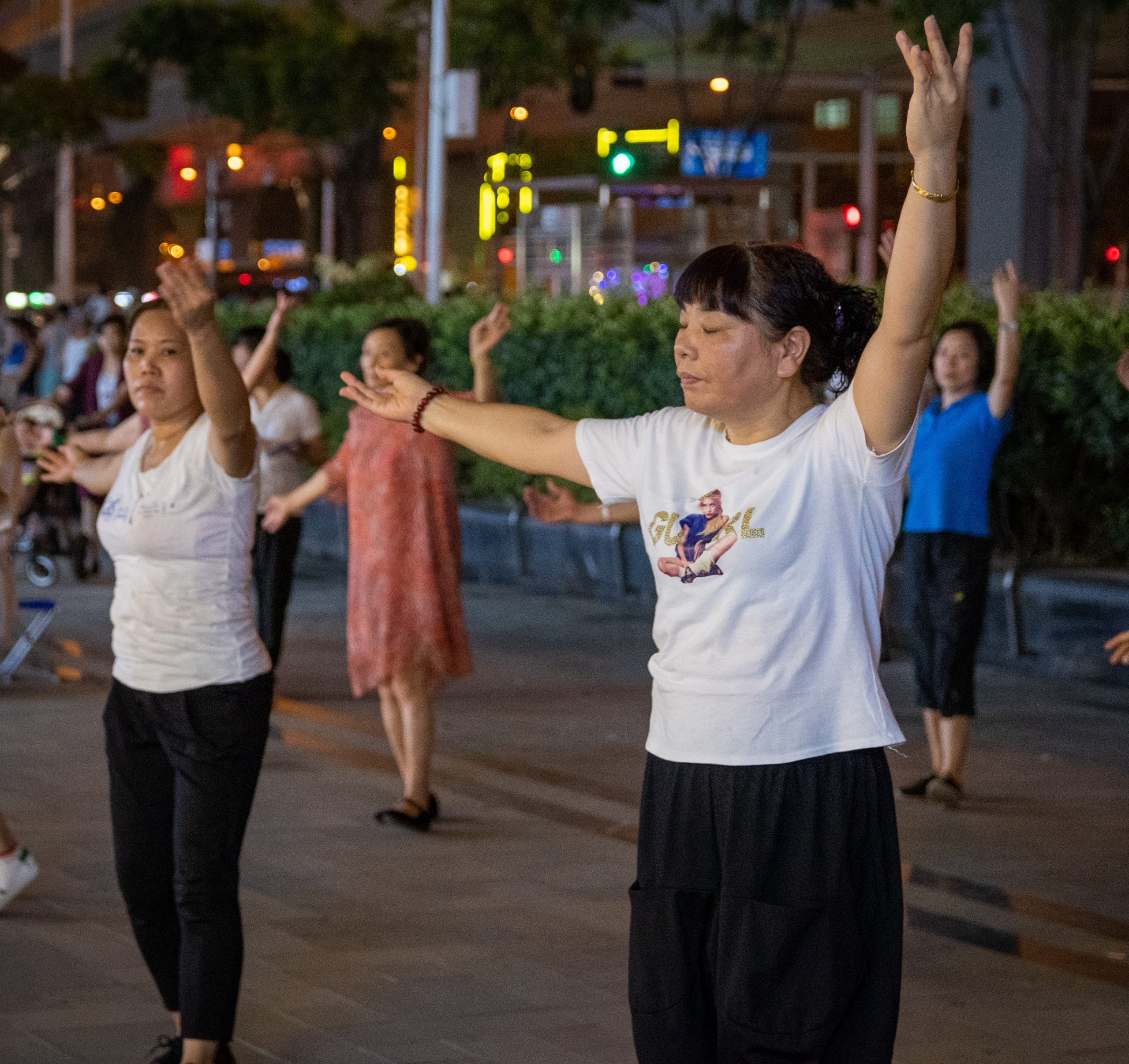 The apprentice, Mdm Han (left), dancing with her master in white, Mdm Zhang (right). Mdm Han mentions that plaza dancing allows her to involve herself in a community with like-minded individuals who wish to keep fit even in old age.
These ladies do not just move their arms and legs, but are also trained to use other props to dance as well.
Mdm Han says: "Teacher Zhang was the one who taught me how to dance, and for 20 yuan (S$4), I learnt a new dance routine. Each dance routine lasts for about three lessons, and so far, I have learnt the basic dance routine, the fan dance, the scarf dance and the soft-strength ball dance."
The fan dance, blending the striking sounds of the fans opening, resembles the wushu or Chinese martial arts fan routine.
In the scarf dance, the ladies throw the scarves into the air, executing slow but graceful movements, making it an altogether beautiful work of art.
The soft-strength ball is probably the hardest dance to learn. It is made up of two components, a Chinese paddle which resembles the fusion of a tennis racket and a table-tennis racket, and a ball that resembles a baseball. This dance may not have the sharpness of the fan, or the gracefulness of the scarf, but the way it is executed is what makes this dance unique.
The dance is a mixture of both fan and scarf, but requires the balance of a ballerina, constantly having to throw the ball and catch it mid-air while dancing. Also, the paddle is heavy and strains the arm the most. 
As the shops pull down the shutters and the crowd disperses, these Wuhan residents end their session with one final dance, a dance that resembles the marching of soldiers, embodying strength and flexibility.      
Mdm Zhang says: "Plaza dancing isn't just a hobby for me anymore, it's a lifestyle. Being a teacher, I want to ensure that this will continue in future generations."