Want to make the most of your time in lockdown? Frederick Law talks to three who have tried out online courses to value-add to their professional portfolio.
Photo by Frederick Asaph Law.
BY
FREDERICK LAW
Published on
July 7, 2020
The world seemed to have come to a standstill with countries in lockdown mode to limit the spread of Covid-19. There's every reason for you then to be creative with your time at home.
HYPE approached three young adults who were keen to make better use of their downtime at home: Amos Tan, 24, a full-time student majoring in Economics and Finance at Singapore Institute of Management (SIM) – University of London, Manuel Ceino, 23, a full-time student majoring in Professional Communications at SIM – RMIT University, and Preethika Nair, 24, an account executive at Dentsu Aegis Network. 
They have all been similarly affected by the ongoing pandemic, with their schools and companies issuing orders to study and work from home till further notice. 
The trio agreed to try three courses in three different categories over a period of one month devoting at least half an hour every weekday to any one of the courses they chose. 
With a cumulative 30 hours of course-time among them, this is what they had to say about their experience.
CODING – Automate The Boring Stuff With Python Programming Course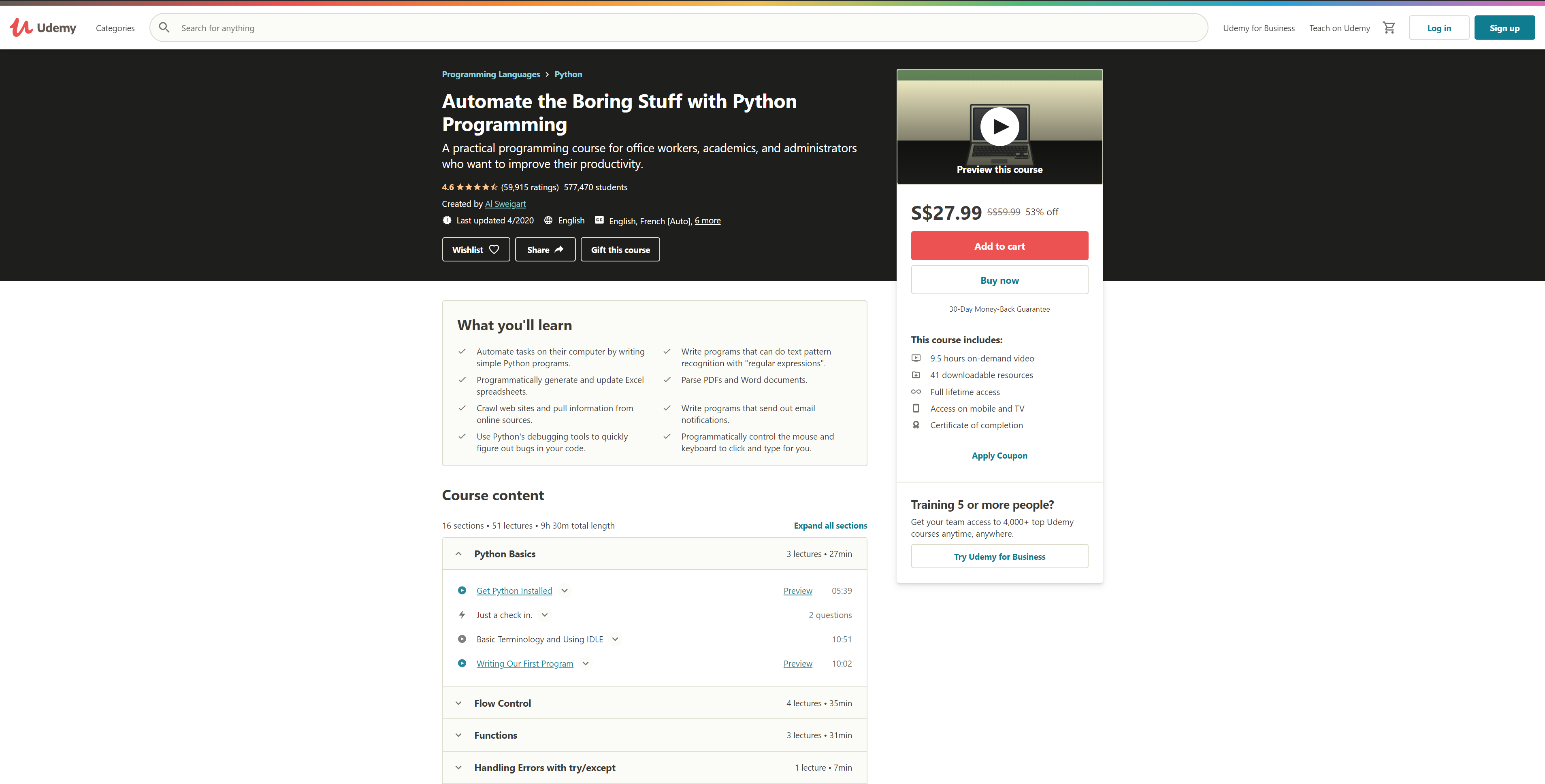 The landing page of the coding online course on Udemy.com. Image from Udemy.com.
Al Sweigart is the instructor and creator of this online course on Udemy.com, an online learning and teaching marketplace. A software developer based in San Francisco, United States, he has written 4 books on Python programming and has spoken at numerous Python-related conferences.
His course has taught 600,000 students to date, with a remarkable 4.6 out of 5 star rating for his course from 60,000 reviews. Although this is a paid course, Singaporeans can reimburse their course fees in full if they submit a claim via the Skillsfuture platform. 
Amos and Manuel chose to take this short course as they felt it would add value to their skillsets.
"I've always wanted to learn how to code. I believe that in order to be relevant in these modern times, picking up this skill should be at the top of anyone's list," Amos said. 
Manuel shared the same sentiment. "Employers nowadays are looking for polymaths. Even though I am proficient in communications, I feel that possessing one set of skills is not enough in today's highly competitive environment. Coding has been and will remain one of the best value-adds to any portfolio due to its wide range of applications across every industry."
Both of them found the course to be beginner friendly, as they lacked any prior experience in this field. However, Manuel confessed that learning coding was "like learning a new language". 
Despite the course imparting only basic knowledge on the Python programming language, the duo managed to apply their newfound knowledge in useful ways.
Amos has been "dabbling in the stock market", and even as a casual day-trader he mentioned that he has to "organise all my market research and financial data into spreadsheets", adding that "it takes [him] one or two hours every day to do so".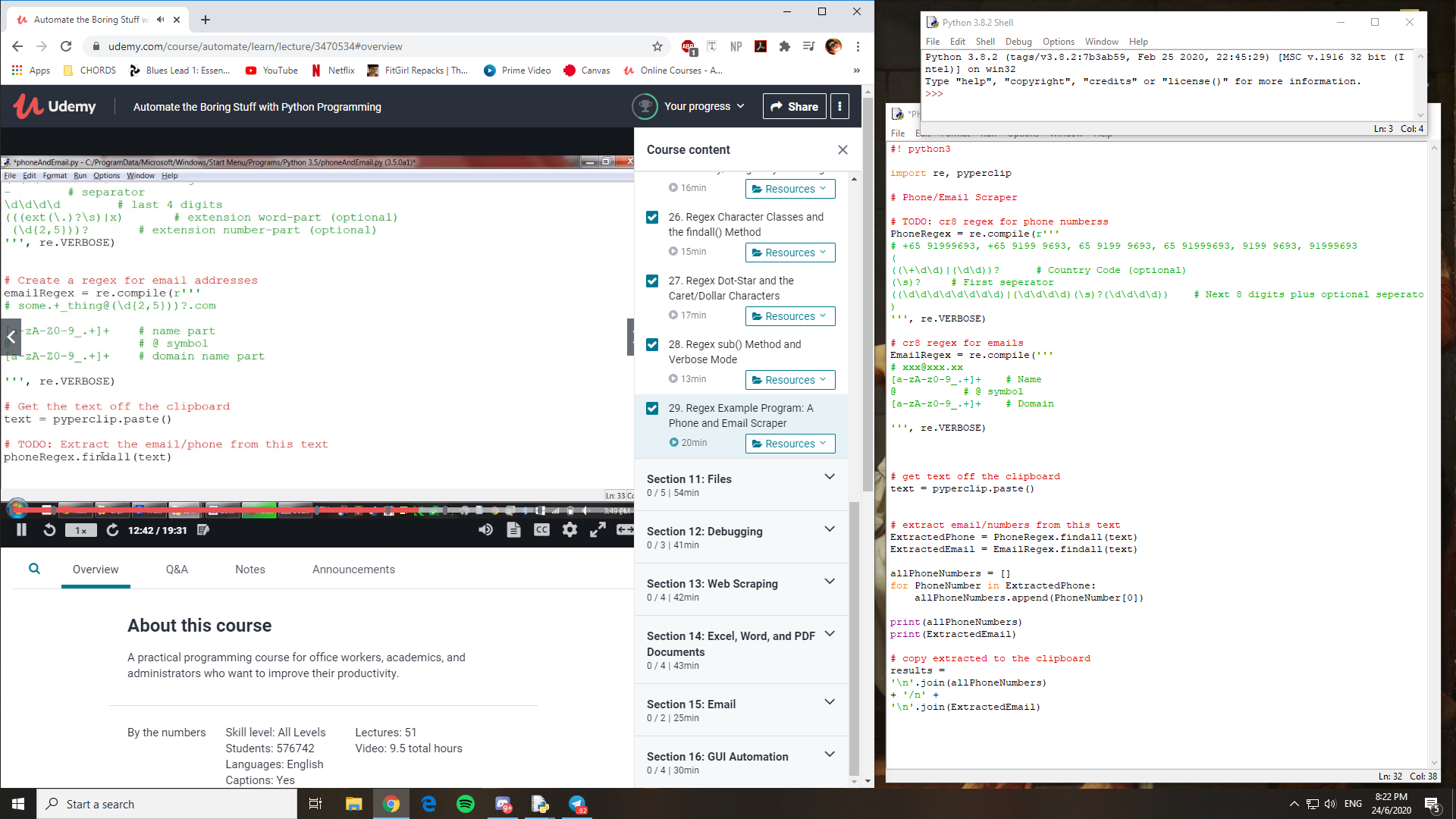 Amos' automated data entry program for Microsoft Excel. Photo courtesy of Amos Tan.
One of the projects he had to do in the course was to automate data entry and organisation in Microsoft Excel using the Python coding language. He said: "I did not expect this course to have real-world applications so fast, so I was pleasantly surprised… just [by] following the lesson, I came up with a working program to automate all my spreadsheets and this increased my efficiency [in managing time] significantly." 
Manuel is officially graduating in August this year and has been applying for positions in the media industry. Having to update his portfolio, he used this course as an opportunity to familiarise himself with coding and subsequently created a website to host his portfolio.
He said: "Before I took this course I had this aversion to coding, it was all so foreign to me. Just being able to complete this course helped me to realise that coding isn't as scary or difficult as I thought it was."  
Just being able to complete this course helped me to realise that coding isn't as scary or difficult as I thought it was.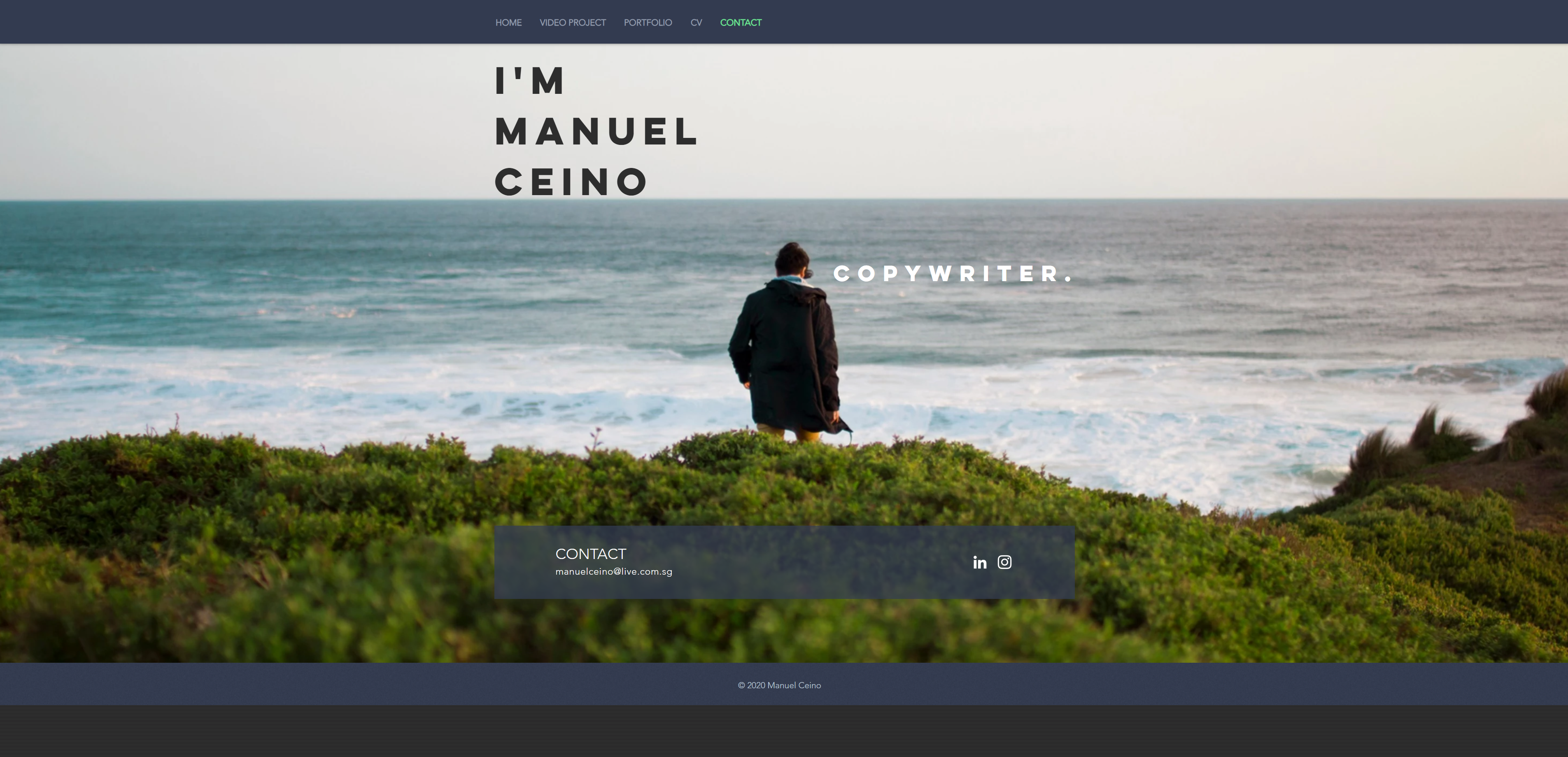 Manuel's portfolio website. Photo courtesy of Manuel Ceino.
MARKETING – Google Campaign Manager And Google Search Ads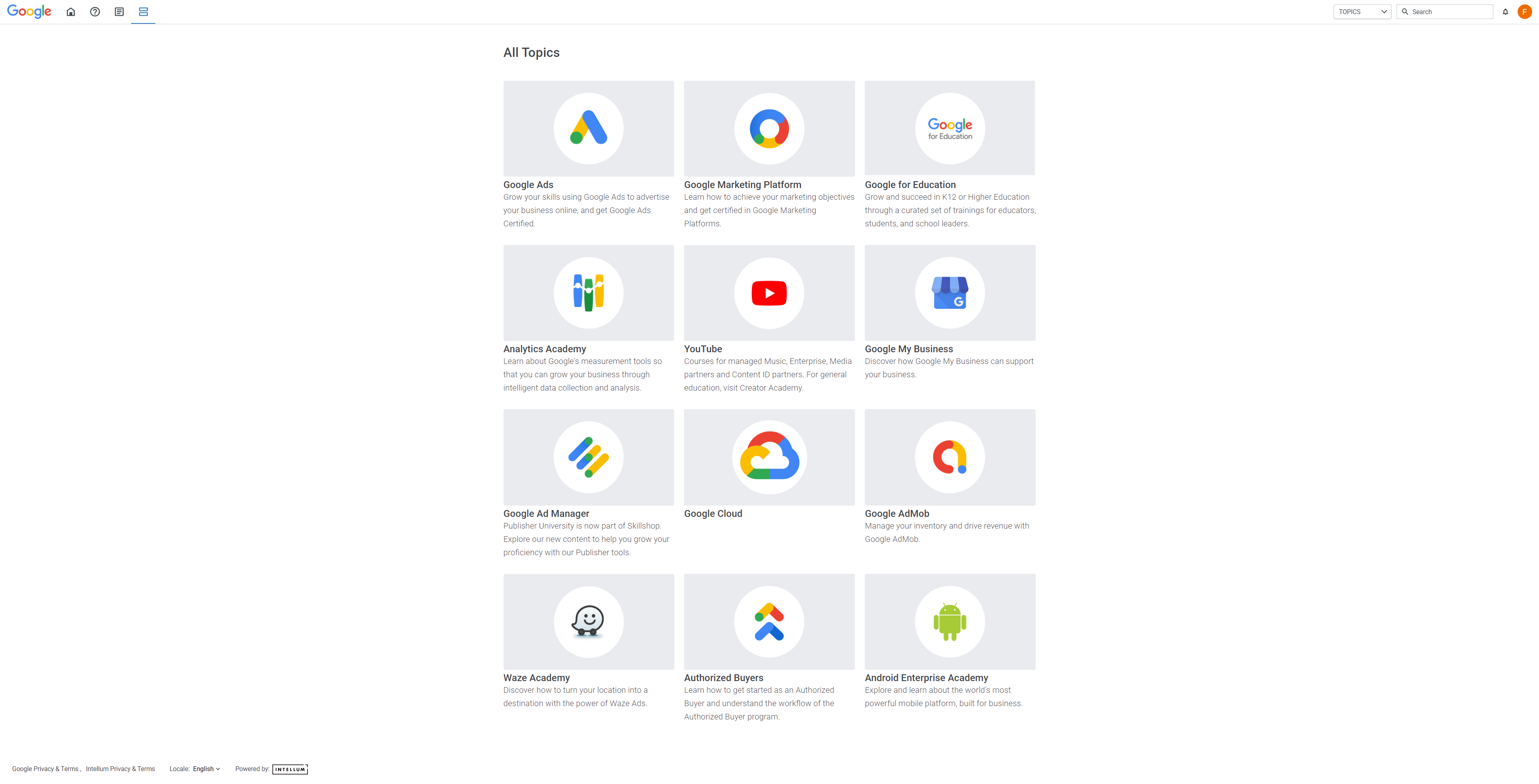 This suite of marketing tools are industry-standard and is widely used by multiple agencies. Image from skillshop.withgoogle.com.
Google Campaign Manager and Google Search Ads are part of a suite of marketing tools called Google Marketing Platform, and are available for free to the general public.
These tools are used by every agency that offers digital marketing services, including Dentsu Aegis Network, a global media and digital marketing communications company. 
Preethika has been working at Dentsu for a little over a year now, and she said: "Working in this industry, you are expected to have some knowledge of Google marketing tools regardless of the role you are in. Official certification in at least two or three of these tools will definitely help translate the depth of your knowledge to prospective or current employers." 
The free courses are structured in three difficulty levels: Beginner, Intermediate and Advanced. Although you are not required to complete all the course material, Preethika mentioned that "the courses are very in-depth, and if you do not have previous experience in running campaigns it's advisable not to skip any [courses]". 
To obtain official certification from Google, you will have to complete 2-3 exams for each marketing tool. Do note that if you fail an exam, you will have to wait for 14 days before you are allowed to retry the exam. Second-time failures carry a 60-day penalty, increasing to a 365-day penalty if you fail it on the third try. 
Preethika completed all the exams on her first try and said that "taking notes and making sure that [she] internalised every lesson before proceeding to the next one" helped her to achieve that. 
As an account executive for a big company like Dentsu, Preethika has to communicate with prestigious clients on a daily basis
"Being certified in Google marketing tools gave me that extra confidence in my work as it was an affirmation of the value of my skills to my company and clients." she added.
Being certified in Google marketing tools gave me that extra confidence in my work as it was an affirmation of the value of my skills to my company and clients.