It's e-Curtains Up For Chinese Performing Arts
Exciting things are in store for Chinese performing arts groups as they explore the impact of digitalisation on their art forms. Lee Zhi Ying finds out more.
(From left) Ding Yi Music Company's musicians Soh Swee Kiat and Chua Yew Kok preparing for their Songs of the Dragon Kiln concert in 2017. Photo courtesy of Ding Yi Music Company.
BY
LEE ZHI YING
Published on
July 7, 2020
Updated on
July 13, 2020
Online platforms proved to be the ideal solution as Chinese performing arts groups explored new frontiers to present their art forms and interact with audiences during the circuit breaker period when practically all face-to-face activities ceased.
Ding Yi Music Company rolled out a new digital series in April 2020 under the banner #dingyiwithyou to help viewers chase away their stay-home blues amidst the Covid-19 pandemic.
Besides live-streaming a concert for the first time, the Chinese chamber ensemble also collaborated with renowned international musicians, created light-hearted social media content, and uploaded free digital full-length archives of their past performances on their online platforms.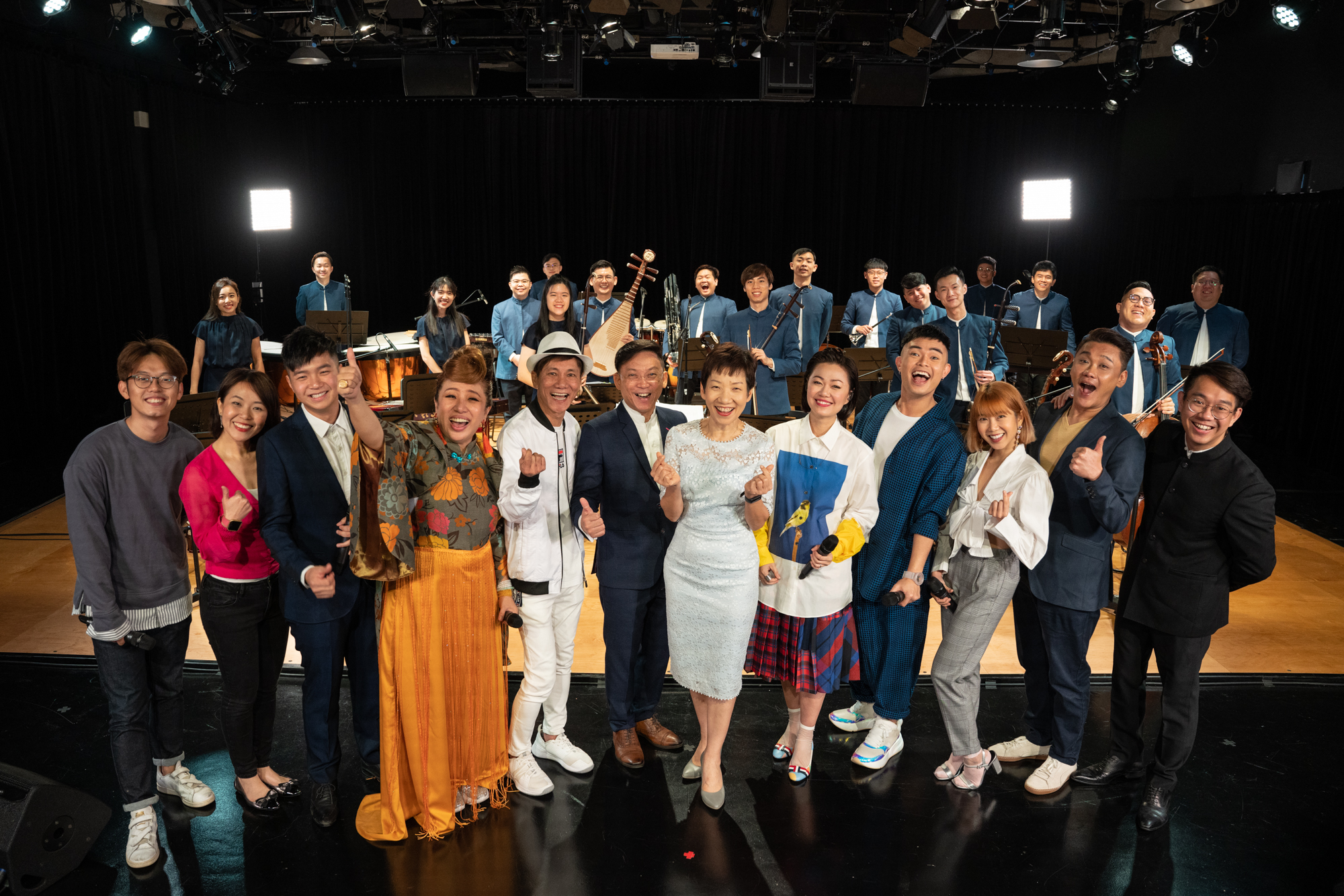 Ding Yi Music Company's first ever online concert titled Together We Stand, featuring local artists like Joanna Dong and Wang Lei, was live-streamed on Ding Yi's Facebook page. Photo courtesy of Ding Yi Music Company.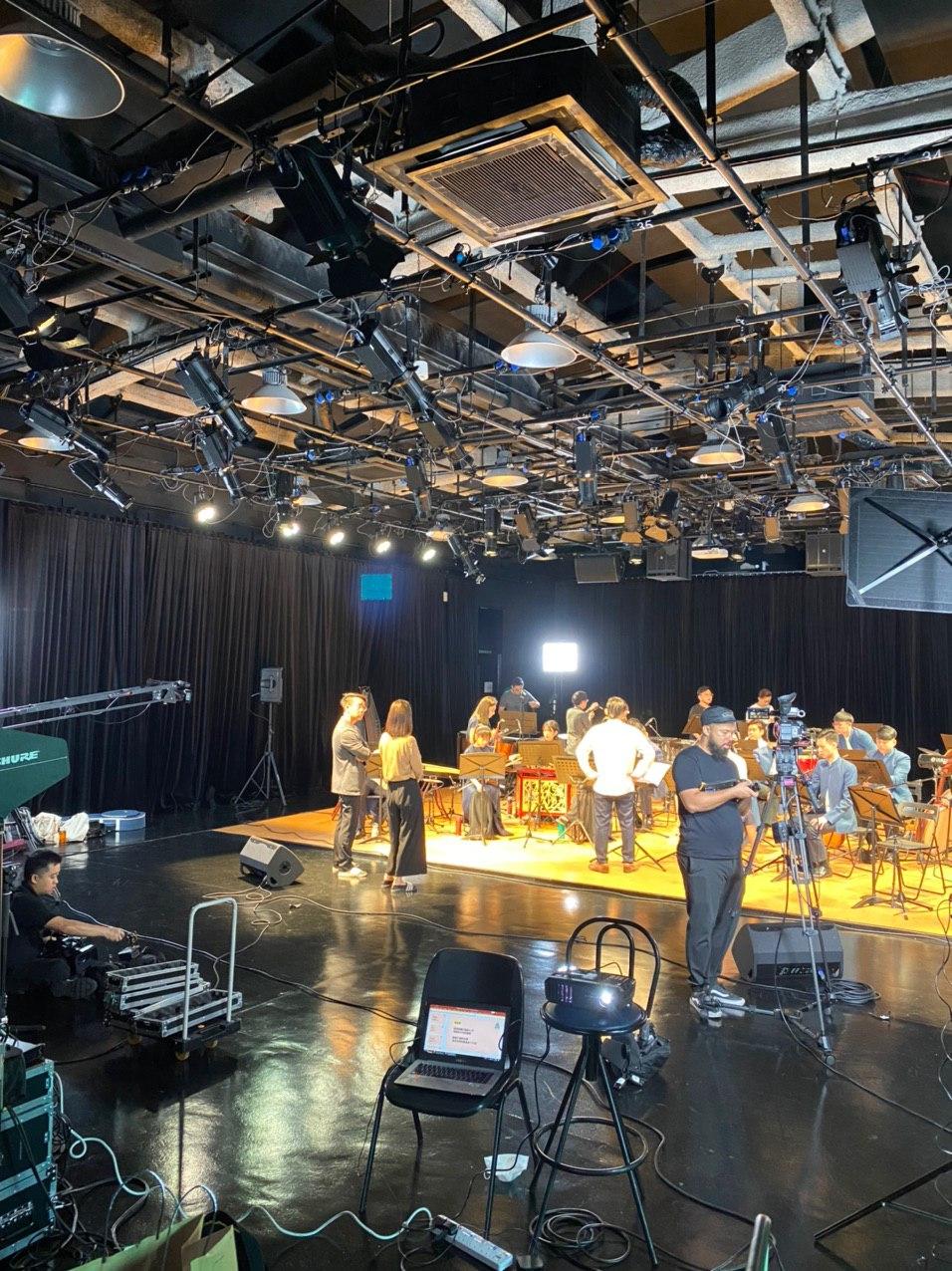 Rehearsal of Ding Yi Music Company's Together We Stand concert. Photo courtesy of Ding Yi Music Company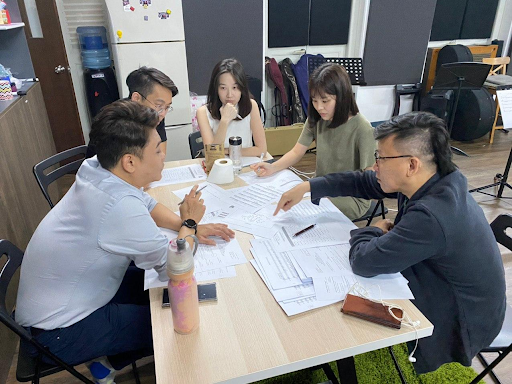 (From left) Jeffrey Low, Dedric Wong, Elvia Goh, Gao Shihui, and Quek Ling Kiong in the production meeting of Ding Yi Music Company's Together We Stand online concert. Photo courtesy of Ding Yi Music Company.
"The #dingyiwithyou campaign allows us to continue interacting with our audience through various social media platforms," said Yvonne Tay, 28, a musician at Ding Yi Music Company. "It is a chance for us to contribute back to the arts scene by allowing the audience to view our past concerts while at home."
It is a chance for us to contribute back to the arts scene by allowing the audience to view our past concerts while at home.
Apart from opening a window of opportunity for Ding Yi Music Company to explore new channels for publicity, digitalisation has also resulted in unlikely collaborations across job sectors.
On May 21, musicians from Ding Yi Music Company performed a rendition of Michael Jackson's Heal the World together with several healthcare workers to pay tribute to frontline heroes.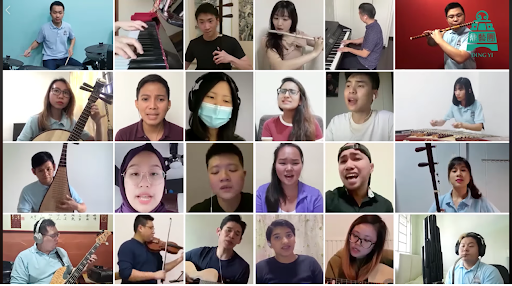 Ding Yi's musicians joined hands with healthcare workers to present their rendition of Heal the World by Michael Jackson. Image from Ding Yi Music Company's Facebook page.
Chee Jun Hong, 28, one of the performers in the video, said "the performance was different from what Ding Yi usually showcases" as the collaboration allowed musicians to use their skills to create a "very meaningful" experience.
"We are not frontline workers so we may not be the most relevant to society, but we hope that our music can soothe people's emotions and give them renewed strength in this panicky and tied-up period," added the double bass musician from Ding Yi Music Company.
To keep home-grown artists and art organisations afloat through the crisis, the National Arts Council (NAC) unveiled a list of initiatives to help sustain the art sector as they leverage on digital mediums in arts creation and outreach efforts.
One of these initiatives is the Digital Presentation Grant for the Arts (DPG), which offers arts organisations up to S$20,000 per project to help defray their operational costs.
Through the grant, NAC aims to create work opportunities for arts practitioners while developing industry capabilities in producing digital arts content.
In addition to the DPG, NAC launched the #SGCultureAnywhere campaign on behalf of the entire sector, which puts the best of Singapore's arts and culture offerings on The A List, a one-stop integrated platform allowing audiences to enjoy arts in the comfort of their homes.
"Through #SGCultureAnywhere, we have seen a remarkable response by the arts community to adapt and digitalise, including those in the traditional performing arts," said Ms Yeoh Phee Suan, NAC's director of Marketing, Communications, and Digital Strategy. "This is exciting for traditional performing arts groups in Singapore, who typically present their works through live performances in physical venues,"
While technology cannot replace the experience of watching a live performance, it has helped expose traditional Chinese performing art forms to a wider audience.
Another project supported by NAC's DPG as part of the #SGCultureAnywhere campaign is a music video project titled A Curation of Shanghai Yue opera Music by Talented Young Musicians spearheaded by Tang Renaissance, an arts charity promoting Shanghai Yue opera in Singapore.
The music video will feature original music for two major opera epics: Macbeth and The Haunted Temple.
Adapted for Shanghai Yue opera for the first time, the 20 to 25-minute-long video of both epics will be uploaded on Tang Renaissance's website and Facebook page in September 2020. A live performance at the Singapore Chinese Cultural Centre is also tentatively set on Nov 5, 2020.
"For younger generations, Chinese opera may seem like an art form unfamiliar to them. We think music is a direct way to expose them to the opera art form compared to trying to let them understand the language and acting in a Chinese opera performance. It is not just typical Chinese music as there are inflections in the music that represent Shanghai Yue opera," said Mr Chew Jun Ru, 30, the lead erhu player in the project.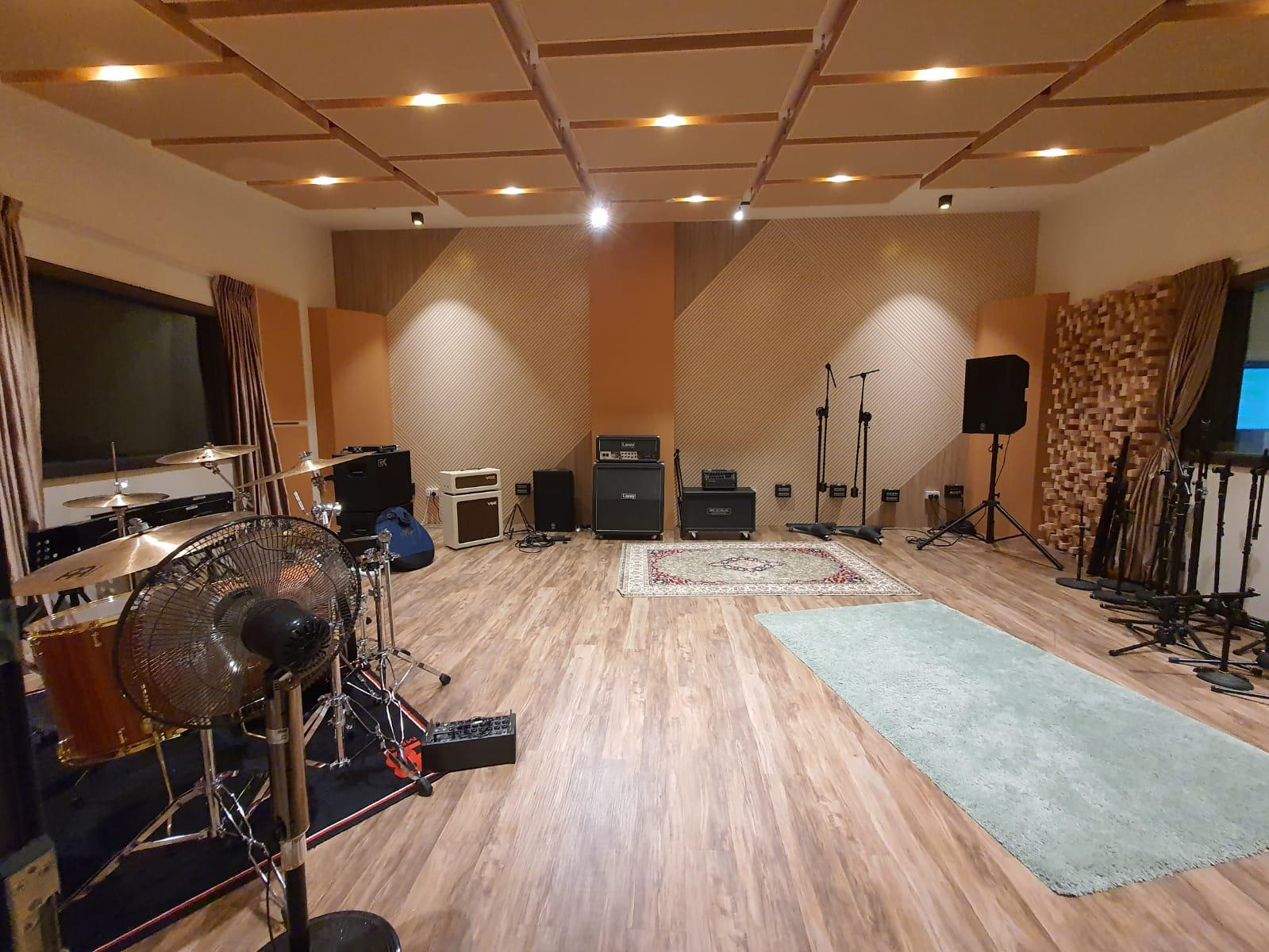 Music studio that will be used for the recording of Tang Renaissance's upcoming Music Video. Photo courtesy of Tang Renaissance.
The organisation thinks that technology can innovate how Shanghai Yue opera can stay relevant in the digital age while retaining its essence and authenticity.
"By increasing the accessibility of traditional Chinese performing artforms, we hope to showcase that traditional arts can go with the times, but the evolution does not mean change," said Mr Cedric Chin Yen Chien, 42, the pipa and guzheng player for the project. "We just hope to get more audience to access traditional art forms through the digital platforms and appreciate the original art form."
While technology can propel Chinese opera towards a bigger audience, Tang Renaissance believes it can never replicate the ambience of live performances.
"Chinese opera comprises of a complex array of art forms, and it is an experience people can only get from live performances," said Mdm Foo Kok Wan, 65, the executive director and chief cultural officer of Tang Renaissance.
Chinese opera comprises of a complex array of art forms, and it is an experience people can only get from live performances.
Moving forward, Mdm Foo thinks that digital platforms can be a good complement to the physical stage. She said: "We can push out more behind-the-scenes content to the audience to show them what it takes to make up a good live opera performance."
Elsewhere, an opera troupe has tapped on Virtual Reality (VR) to film a 360-degree video of a Chinese opera stage tour alongside an insider look at the costumes, make-up, props, and instruments.
"Both NAC and Tok Tok Chiang felt that the traditional Chinese opera stage intrigues many people as it is a rare sight in this cosmopolitan city of ours," said Mr Nick Shen Weijun, founder of Tok Tok Chiang.
A stage on wooden stilts was built to film the VR tour, and various cameras were placed around the stage to capture a 360-degree view and a time-lapse video showcasing the stage setup and performers' pre-show preparation rituals.
Mr Shen hopes that the VR concept will allow people to take a closer look backstage" and "get a sense of the hard work involved in putting up a traditional street opera performance".
While nothing can replace a live performance, Chinese performing arts groups will continue to explore how technology can present the beauty of their art form in formats never seen before.
Ms Yeoh said: "In the new normal, arts experiences will be sought online and in person, and digital components will complement physical modes. While some lifestyles and preferences may change, one thing we know for sure is that the arts will continue to play a big role in enriching our lives and bringing people together."