Han Embroidery: A Dream To Restore
Embroidery and coffee may not have anything in common but they need dedication to create excellence. Benjamin Wellesley meets a genteel grandmother who believes in giving her all to all that she does.
Mdm Yang's beautifully embroidered picture of Wuhan's icon, the Yellow Crane Tower,  is a testament to her devotion to a historical craft that she is passionately reviving with her family. Photo courtesy of Bibiana Low.
BY
BENJAMIN WELLESLEY
Published on
July 7, 2020
You walk into this cozy little café in the heart of Tan Hualin, comprising chic shops in a shopping street recrafted from old buildings in Wuhan, the capital city of China's Hubei province. Greeting you with a warm smile from behind the coffee machine is Yang Chun Mei, 72.
You order an Americano and she promptly prepares the brew. You're a little surprised that she is the barista (most baristas you meet in Singapore are youthful).
As you sip on your cuppa (I daresay one of the best Americanos I've had in China), you're also intrigued by the décor displaying small and large pieces of Chinese embroidery. The café, if you failed to notice the long signboard, is also the official address of the Hubei Han Embroidery Association.
Mdm Yang, as you begin to strike a conversation in Mandarin with her, tells you she is a fervent believer in the preservation of Han embroidery. You notice a young woman at the side busy embroidering. Mdm Yang interrupts the conversation to give her student some pointers. 
She says: "Give me three months and I can teach you Han embroidery."  
The friendly grandmother has decades of wisdom and experience with Han embroidery and is the second generation of embroidery artists in her husband's family. It is a Chen family tradition to say the least. Her second child, Chen Hui, 49, is the president of the Hubei Han Embroidery Association, which is run with membership fees. 
Mdm Chen Hui is passionately involved in preserving and promoting the age-old art form. Mdm Yang steadfastly supports her daughter in her cause, playing the role of mentor to many budding young embroidery artists in the province.
"When my daughter was young, she showed interest in Han embroidery. My husband and I gave her a piece of cloth to begin with, and the rest is history," reminisces a jovial Mdm Yang. 
When my daughter was young, she showed interest in Han embroidery. My husband and I gave her a piece of cloth to begin with, and the rest is history.
"Since our whole family maintains a strong interest in this cultural art form, we'll make sure that it passes down to the next generation and the ones following it." The fourth generation is Mdm Yang's granddaughter who is an undergraduate and has earned a reputation for her achievements in embroidery.
Han embroidery is one of 10 major types of Chinese embroidery and has a history spanning over 2,000 years, making it one of China's most deep-rooted traditional art forms.
"There are over 10,000 people practising Han embroidery, making it a very important part of China's culture," Mdm Yang explains.
A lot of credit goes to Mdm Yang and her team who organise talks and workshops at community centres and institutions of higher learning. Mdm Chen travels abroad to meet up with the members of overseas branches of the association.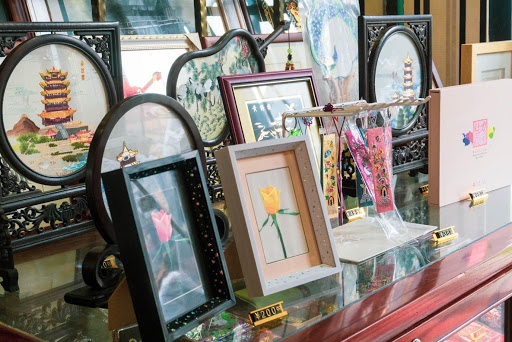 Upon closer inspection, the variety of embroidered pieces have multiple layers which make the intricate details more prominent, even for simple works like a flower. Photo by Benjamin Wellesley.
Han embroidery utilises a myriad of colours and detailed gradations to produce vibrant and elaborate pieces. You would need a lot of dedication and practice to master the art.
"Some techniques take months to learn, especially when you want to achieve gradients," says Mdm Yang, who explains that much time is required to truly grasp the different techniques and be familiar with the needle. 
"I always told my daughter this: no matter how skilled the master they send to the mountains is, if the people aren't willing to devote time working on their craft, then they'll never comprehend it," adds Mdm Yang, who faithfully abides by her motto of practice, practice and practice.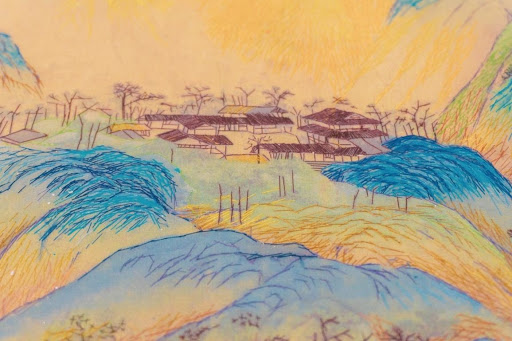 A glimpse into a certain section of the 16-metre long art piece Mdm Yang and the other teachers are working on. Photo by Benjamin Wellesley.
To keep this heritage alive and promote awareness, Mdm Yang, along with other Han embroidery teachers, are currently embroidering a 16-metre long painting titled Qianli Jiangshan Tu (A Thousand Li of Rivers and Mountains) by 11th Century artist Wang Ximeng. According to the Dec 27, 2015 article in Shanghai Daily, Wang painted this when he was 18. He died at 23 and the painting is "prized for its finely wrought details as well as its sweeping grandeur".
Preserving this art piece is a gargantuan task. Every teacher has a section to embroider, with the whole piece requiring a total of five layers to fully complete the embroidering process. After the teachers are finished with their individual parts, a master is called in to add the finishing touches to the piece.  
"Embroidering is a beautiful way to preserve things, because the paper variations are easily damaged," highlights Mdm Yang.
The outreach efforts to heighten awareness and encourage learning of Han embroidery of the Chen family extends to persons with disabilities. Learning about patience and precision through embroidery, they use the simple stitches to create table runners and coasters. Proceeds from the sales of these items form their livelihood.
"They learn a lifelong skill in the form of Han embroidery, and they're able to produce their own works. Just like kids, we support beginners by holding their hand and teaching them how to walk, so they can run and do it independently later on," Mdm Yang says. 
She adds: "I'm most proud when I see the people with disabilities being able to produce their own Han embroidery works. Their disabilities do not hinder their passion to learn." 
Looking into the future, Mdm Yang says she together with her daughter and granddaughter aim to spread their unfaltering passion to anyone who has an interest in Han embroidery. 
 "I feel like I'm doing this for the pride of my country, for people to recognise and appreciate Han embroidery. I just want to be able to share my story and passion with people who are also passionate and eager to listen about it."  
In case you're wondering, Mdm Yang is not the resident barista. She is holding the fort for the real barista who is on his day off and while her other granddaughter is overseas to learn more about coffee brewing.
In case you're wondering again, the menu is as extensive as café menus go, if you see Mdm Yang behind the machine, pick either Americano or Latte. She has learnt only these two, as she smilingly, sheepishly admits. But whether it is embroidery or coffee, she gives her all.
Just as the Chen family's devotion to preserving embroidery leaves a rich aftertaste of the power of passion, my last sip of the exquisite Americano tells me I'll be back for more.